News
Stay informed about the latest enterprise technology news and product updates.
IBM takes on Mac backup
IBM and partner Effigent have released a co-developed product for backing up Mac desktops and laptops. Called CDP4Mac, an Apple OS X version of IBM's CDP for Files desktop / laptop data backup software. Like the earlier Windows version of CDP for Files, CDP4Mac tracks changes to workstation files and can upload them to a USB device, centralized server or a designated URL when connected to a network. Effigent added the Mac interface and ability to recognize the Mac file system structure.

Download this free guide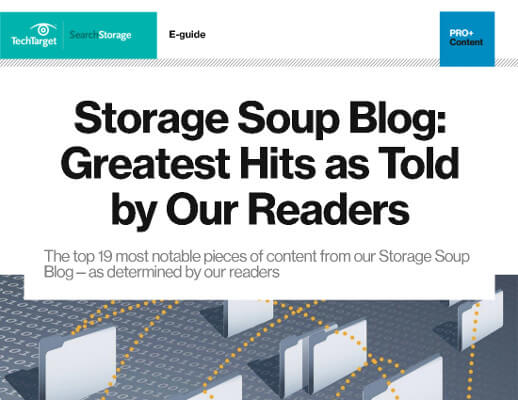 Can't get enough Storage Soup?
We understand! That's why we've compiled the most viewed blogs from 2018 for you in this easily downloadable PDF. From technologies like hyper-converged clouds and TLC 3D NAND to new launches from HPE and NetApp's cloud-flash pivot, our editors have you covered.
Apple has its own near-CDP backup product for OS X, called Time Machine, but an IBM spokesperson said Effigent and IBM had Apple's support, including testing assistance, because CDP4Mac can also be used to backup Windows data if a Mac is running both operating systems without the need for separate clients. CDP4Mac can also do single instancing across files from both OSes.
This puts IBM into fresh competition with EMC, which offers both Retrospect and versions of its Mozy backup SaaS that support Mac, as well as Atempo's LiveBackup CDP product. "There aren't many solutions out there that support both Mac and PC," said Enterprise Strategy Group analyst Lauren Whitehouse. "Apple is very tuned to the Apple user."
She added, "In the corporate environment, users first look to a storage vendor or a familiar partner for backup, rather than Apple, even if they're running Macs."