News
Stay informed about the latest enterprise technology news and product updates.
HPE launches new XP7 based on Hitachi technology
Hewlett Packard Enterprise launched its high-end enterprise storage array upgade today at the same time as Hitachi Data Systems. The HPE XP7 and HDS Virtual Storage Platform (VSP) use the same underlying hardware and software, supplied by HDS' Japanese parent company Hitachi Ltd.

Download this free guide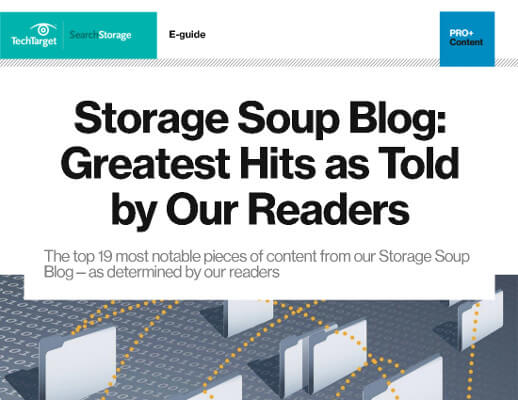 Can't get enough Storage Soup?
We understand! That's why we've compiled the most viewed blogs from 2018 for you in this easily downloadable PDF. From technologies like hyper-converged clouds and TLC 3D NAND to new launches from HPE and NetApp's cloud-flash pivot, our editors have you covered.
HPE has licensed the Hitachi technology for 15 years, for customers who want the highest availability mainframe storage. The XP7's mainframe support and ability to virtualize any hardware array on the back end distinguish the platform from HPE's flagship 3PAR StoreServ platform.
"The XP stands for advanced replication, mission critical RAS [resiliency, availability, serviceability], and 100 percent access to data and applications, regardless of any hardware or site failure," said Vish Mulchand, senior director of product management for HPE storage.
You can read more about the XP7 speeds and feeds in this story on the HDS VSP upgrade. As with HDS, HPE calls out the platform's all-flash options and data reduction technologies as key enhancements. While HPE adds its own availability software to the XP7 platform, the inline and post-process data reduction comes from the HDS flash module drives (7 TB and 14 TB), ASICs inside the FMDs and optimized software. "For this class of storage, customers want configuration flexibility," Mulchand said. "We have customers using all-flash XP7s and hybrid XP7s"
Unlike HDS, HPE provides pricing info for its new platform. Street pricing starts at $20,800 for the new controllers and $22,200 for FMDs. HPE claims an all-flash configuration can cost $1.20 per GB with 4-1 data reduction. Software-based compression and deduplication costs $11,600 per XP7 frame.