News
Stay informed about the latest enterprise technology news and product updates.
HP gives Autonomy archiving app better search
Hewlett-Packard today upgraded its Application Information Optimizer (AIO) archiving application, adding support for the cloud and integration with the HP Intelligent Data Operation Layer (IDOL) search engine.

Download this free guide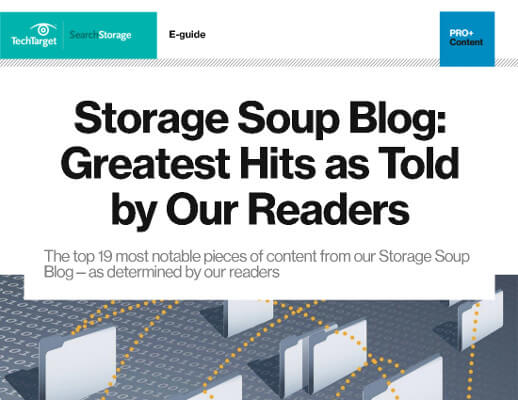 Can't get enough Storage Soup?
We understand! That's why we've compiled the most viewed blogs from 2018 for you in this easily downloadable PDF. From technologies like hyper-converged clouds and TLC 3D NAND to new launches from HPE and NetApp's cloud-flash pivot, our editors have you covered.
AIO, which HP acquired when it bought Autonomy in 2011, is used to archive or retire data for performance or regulation purposes. It includes e-discovery and data protection features for information governance. The software accesses, classifies and moves outdated and inactive structured data from production databases and legacy applications onto lower-cost storage. From there, it can be used in other applications or deleted.
The integration with the IDOL search engine lets customers mine structured and unstructured data through AIO. With the new release, HP added support for the HP Cloud and Amazon S3.
"We are adding flexibility on where you can retrieve the information and where customers can put the data, such as the cloud," said Joe Garber, HP's vice president of information governance.
IDOL integration gives AIO "Google-like" search so administrators can easily locate data residing on old hardware that is difficult to retrieve because of outdated technology.
AIO now can do searches across multiple IBM DB2 databases via the IDOL search engine. Administrators can use SQL or plain English searches.