News
Stay informed about the latest enterprise technology news and product updates.
HP drops roadmap nuggets at StorageWorks TechDay **Updated**
The storage blog-and Tweet-o-sphere was abuzz with details provided by HP execs at a private forum in Colorado Springs Monday about the direction of their midrange storage roadmap. Among the tidbits flying about online:

Download this free guide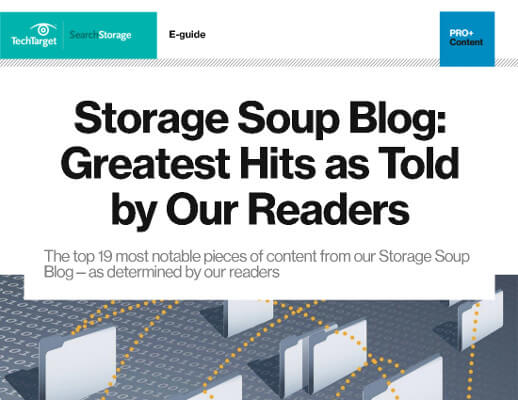 Can't get enough Storage Soup?
We understand! That's why we've compiled the most viewed blogs from 2018 for you in this easily downloadable PDF. From technologies like hyper-converged clouds and TLC 3D NAND to new launches from HPE and NetApp's cloud-flash pivot, our editors have you covered.
HP is also still executing on roadmap predictions it made last year, adding small-form factor SAS drives across its storage arrays, beginning with the MSA line. The EVA is slated for a refresh with 2.5-inch SAS drives by the end of this year.
HP also expanded its Windows-based NAS products for SMBs today, with the introduction of the small office/home office (SOHO) X500 Data Vault series and new high-availability (HA) options for its X3000 Windows Storage Server 2008 product line.