News
Stay informed about the latest enterprise technology news and product updates.
HDS fully digests Pentaho
Hitachi Data Systems (HDS) closed its acquisition of Pentaho this week, which means Pentaho's big data analytics technology will be showing up in HDS storage products soon.

Download this free guide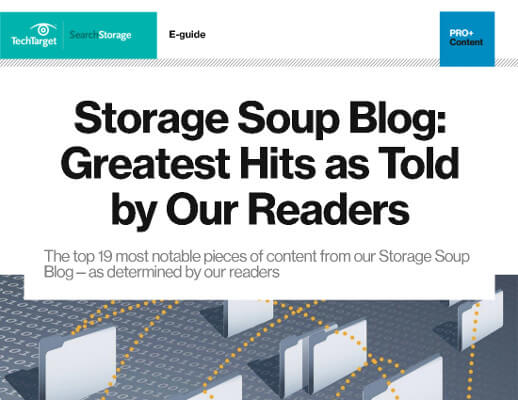 Can't get enough Storage Soup?
We understand! That's why we've compiled the most viewed blogs from 2018 for you in this easily downloadable PDF. From technologies like hyper-converged clouds and TLC 3D NAND to new launches from HPE and NetApp's cloud-flash pivot, our editors have you covered.
Pentaho software will be part of the Hitachi Scale-Out Platform (HSP) hyper-converged system launched at HDS Connect last month. HDS will also use Pentaho in a Hitachi Unified Compute Platform (UCP) product for SAP HANA and Hadoop to analyze big data.
Pentaho's standalone and embedded software for analytics, data integration and visualization is a big part of the HDS social innovation strategy the company highlighted during its Connect conference. Hitachi is trying to become a leader in the Internet of Things market, including storage and other infrastructure products.
That means analytics will play a big role in nearly all of its products going forward, said Sarah Gardner, HDS CTO of social innovation.
"Internet of things solutions are not designed to operate in the background," she said. "We need to wire them into other parts of the environment. The days of people wanting standalone analytics are gone."
HDS disclosed its intention to acquire Pentaho in February. Pentaho will operate independently as Pentaho, a HDS company, according to HDS.