News
Stay informed about the latest enterprise technology news and product updates.
HDS extends VSP virtualized storage, moves into hyper-convergence
LAS VEGAS — Hitachi Data Systems opened its HDS Connect conference today with smaller versions of its flagship Virtual Storage Platform (VSP) storage array and two hyper-converged systems. The hyper-converged systems include one based on HDS technology and the other on VMware's EVO:RAIL.

Download this free guide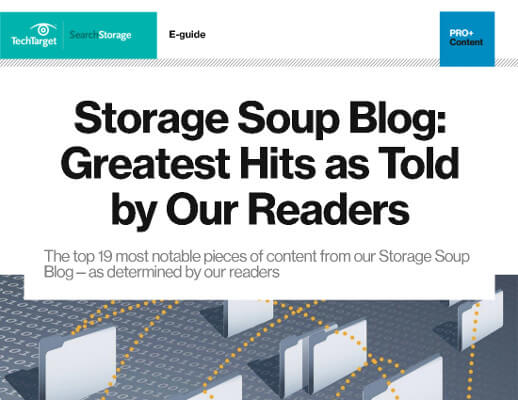 Can't get enough Storage Soup?
We understand! That's why we've compiled the most viewed blogs from 2018 for you in this easily downloadable PDF. From technologies like hyper-converged clouds and TLC 3D NAND to new launches from HPE and NetApp's cloud-flash pivot, our editors have you covered.
HDS is extending the VSP that it launched a year ago downwards with dual-controller, smaller arrays. The first VSP – the G1000 – can support 16 controllers and scale to 4.5 PB in a 10U rack. It continued HDS' tradition of high-end enterprise arrays.
The new arrays include a 3u VSP G200 and 5u VSP G400, G600 and G800 models. They range in capacity from 1 PB on the G200 to 5.7 PB on the G800.
Like the G1000, the new systems can use Hitachi's proprietary flash module drives (FMDs), which come in 1.6 TB and 3.2 TB capacities. The G200 supports 264 FMDs, the G400 480, the G600 720 and the G800 1,440. The G1000 holds 578 FMDs.
The new VSP arrays use the same Hitachi Storage Virtualization Operating System (SVOS) as the G1000. SVOS allows other vendors' storage to be virtualized behind the VSP arrays, handles management features such as non-disruptive data migration and includes a native global active device feature that provides active-active clusters across data centers without requiring a separate storage appliance.
The VSP arrays support Fibre Channel and iSCSI storage natively, and connect to Hitachi NAS file arrays for unified storage.
While the G1000 is aimed at large enterprises, HDS will market the smaller systems as ways for midmarket companies to consolidate virtual server block and file workloads.
"The VSP high end was always unreachable for some customers," said Bob Madaio, HDS senior director of product marketing. "You have to understand the needs of the application and not assume it's one-size fits all."
Madaio said while the software is the same across all VSP arrays, the new systems use Intel-based controllers instead of an HDs proprietary architecture.
The G200, G400 and G600 arrays are available today with the G800 expected later this year.
The hyper-converged systems are part of Hitachi's UCP convergence family. Madaio described the new Hitachi Scale-Out Platform (HSP) as "hyper-convergence for the analytics world." HDS positions HSP as a scale-out platform for Hadoop environments, allowing customers to analyze data in place so they don't have to move large data sets to perform analytics functions. It uses Hitachi servers along with KVM hypervisors and HDS storage management software.
HDS also launched the Hitachi UCP 1000 for VMware EVO:RAIL that uses VMware's Virtual SAN (VSAN) hyper-converged software. HDS said it would be an EVO:RAIL partner last year, but the UCP 1000 is its first product based on the VMware partnership. HDS sees the UCP 1000 and the new UCP 2000 – which combines Hitachi servers with the VSP G200 – as SMB or remote office storage.
We'll have more on these and other news from HDS Connect over the next several days on SearchVirtualStorage.com.