News
Stay informed about the latest enterprise technology news and product updates.
Google's millionaire masseusse
Imagine you're a down-on-her-luck new divorcee looking to get back on her feet. The year is 1999. You manage to find a job as an in-house masseusse at a little Silicon-Valley dotcom startup for $450 a week and stock options for a company nobody's really heard much about yet.

Download this free guide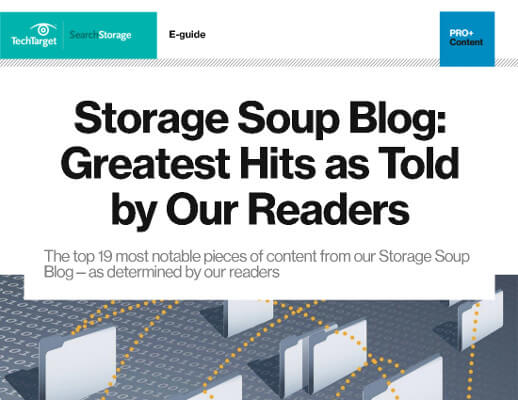 Can't get enough Storage Soup?
We understand! That's why we've compiled the most viewed blogs from 2018 for you in this easily downloadable PDF. From technologies like hyper-converged clouds and TLC 3D NAND to new launches from HPE and NetApp's cloud-flash pivot, our editors have you covered.
Eight years later, you retire a millionaire.
Sound far-fetched? It is, but it's exactly what's happened as a result of Google's rise to Internet dominance and accompanying $700+ share price over the last few weeks, according to a New York Times report.
Even more interesting–according to the Times:
Although no one keeps an official count of Google millionaires, it is estimated that 1,000 people each have more than $5 million worth of Google shares from stock grants and stock options.
I wonder if there are any Google millionaires reading this right now. If so, you're buying lunch.