News
Stay informed about the latest enterprise technology news and product updates.
Flash accelerates Nimble sales, not profits
Nimble Storage received a quick jolt from its All Flash arrays last quarter, as the platform drove larger deals and helped bring in bigger customers. The vendor continued to lose money, however, despite a 21% increase in revenue over last year.

Download this free guide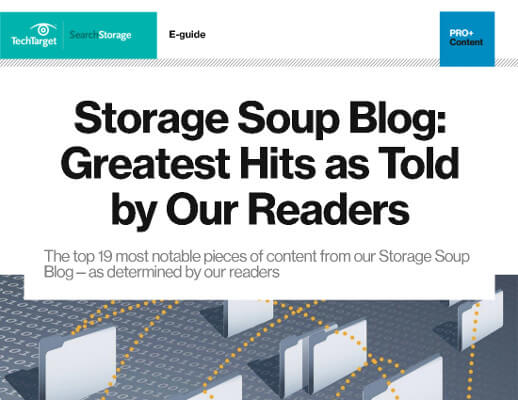 Can't get enough Storage Soup?
We understand! That's why we've compiled the most viewed blogs from 2018 for you in this easily downloadable PDF. From technologies like hyper-converged clouds and TLC 3D NAND to new launches from HPE and NetApp's cloud-flash pivot, our editors have you covered.
Nimble's revenue of $86.4 million exceeded its previous forecast for the quarter. The vendor still lost $20 million in the quarter and CEO Suresh Vasudevan would not give an estimate when Nimble might approach profitability. Nimble ended the quarter with $203 million in cash. Nimble forecasted revenue in the range of $93 million to $96 million this quarter.
Nimble claims it added 55 all-flash array customers in the product's first six weeks on the market. Vasudevan said all-flash sales made up 12% of Nimble's array bookings in the quarter. He said 25 all-flash customers were new to Nimble. Overall, Nimble added 580 customers in the quarter.
Vasudevan said the deal size for all-flash arrays were around twice that of Nimble's hybrid systems with flash and hard disk drives. He said the typical workloads for all-flash systems were virtual desktop storage, databases and other performance-intensive applications.
Vasudevan credited all-flash and Fibre Channel support introduced in 2014 for making Nimble more of an enterprise play. He said Nimble had a record quarter for deals over $250,000, with those deals making up 20% of its total revenue.
"What is interesting for us is that the number of larger enterprise opportunities we're competing in is substantially higher than in the past," he said. "The all-flash array has really moved the needle for us and it was a record level of contribution from the enterprise segment for us."