News
Stay informed about the latest enterprise technology news and product updates.
Flash SSD systems redefine storage tiers
The popularity of storage systems that support tiering within the box, driven primarily by NAND Flash solid state drives (SSDs), has created confusion about the meaning of storage tiering. While speaking to directors and CIOs of IT operations at a recent event, questions came up that illustrate this confusion.
The common understanding of tiering for many in IT is what is called external tiering today. This includes different storage systems with different performance, capacity, and — more importantly — cost characteristics. These tiers are called tier 1, tier 2, tier 3, and sometimes even a tier 4. These tiers may include a SAN with Fibre Channel or high-performing SAS drives, another box with capacity SATA drives for archiving or backup, and even a tape library.
When DRAM solid state storage as an external device became more generally available, it was marketed as a tier 0 storage hierarchy device. Most of IT still has looks at tiering that way.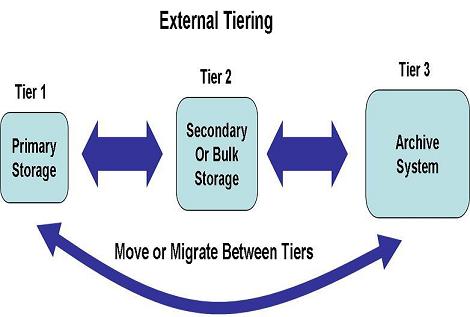 "Inside the box" tiering is not new but the use of NAND Flash SSD has crystallized the focus on this type of tiering. We've recently seen various types of approaches and characteristics that provide real differentiation among the product offerings here. Evaluator Group covers these tiering products and their differences on our web site. The materials from the vendors for these solutions highlight the value of the systems' tiering but do not address the new way of looking at tiering. These systems can include SSDs, high-performance spinning disk and capacity disk in one box.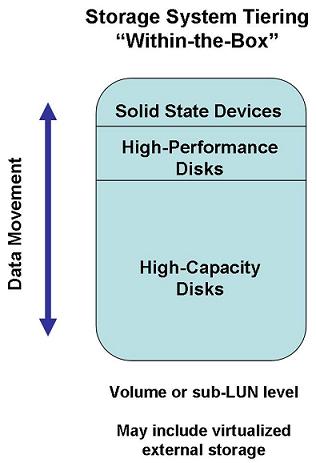 For those in the storage world, the difference is so well understood that vendors don't often place it in context for the IT world in general.
This background of tiering within storage brings us back to the regular interactions with IT directors and CIO that I have. There is a lack of clarity in the terminology based on the evolution that has occurred. Not everyone is at the same level of understanding. Consequently, putting the discussion in context is necessary to ensure that the conversation is following the path with different people. It is probably too late to change the descriptive terminology used and given enough time, the base understanding will change to where this becomes less of a problem. In the meantime, the education sessions offered at conferences such as SNW and Storage Decisions and more in-depth classes by others organizations such as the Evaluator Group work toward raising this level of the awareness of the difference.
(Randy Kerns is Senior Strategist at Evaluator Group, an IT analyst firm).