News
Stay informed about the latest enterprise technology news and product updates.
Enterprise data storage and IT industries place more bets for 2010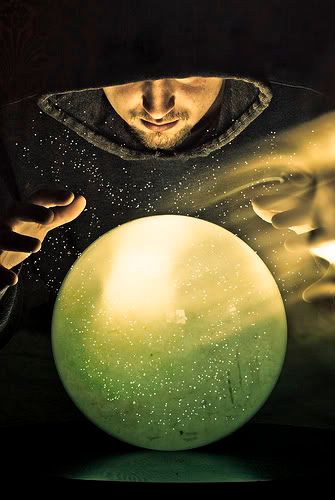 The Wizard, by user seanmcgrath on Flickr.
Last week, we wrote about some early storage industry predictions for 2010 from analysts and users, but more industry experts have since checked in with their outlooks for the coming year. Here are a few of the themes from these latest predictions from Symantec Corp., Enterprise Strategy Group (ESG) and Forrester Research:
SMB vs. Enterprise: opinions vary
One of the more interesting common topics explored by these reports is the outlook for technology adoption among different sizes of business. Beyond that similar focus, however, there are some significant differences in how different organizations see the market developing.
According to Symantec's State of the Data Center survey, midsized enterprises are "leading the way" with adoption of new technologies like cloud storage. According to Matthew Lodge, senior director of product marketing for Symantec, the midsize enterprise data center, defined by Symantec at 2,000–9,999 employees, has a "more intense" data center than larger counterparts. "They're deploying more applications [than larger companies] and expecting major changes in 2010," Lodge said. He says new applications are driving more stringent availability requirements, while staff remains tight among these organizations.
ESG, meanwhile, has a different view of what makes a midsized business in its preliminary 2010 spending research, according to research director John McKnight. "Generally speaking…[midsized organizations according to ESG's definition] almost always lag the enterprise in adoption of all new technologies," McKnight wrote in an email to Storage Soup. "There's a lot of conventional wisdom that cloud/SaaS adoption will be led smaller organizations. That may be true in the small business segment (i.e., the "S" in "SMB") but our data has never shown much of a discrepancy between midmarket and enterprise when it comes to cloud."
Pent-up demand? Capex vs. Opex
While ESG and Symantec surveyed enterprise storage managers, The Forrester report takes a higher-level view of the overall global IT market, predicting that
The US IT market will grow by 6.6% in 2010 (twice the 3.1% growth in nominal GDP), following a drop of 8.2% in 2009. The global IT market will rise in 2010 by 8.1% in U.S. dollars, and by 5.6% in local currencies. Growth will start slowly in 2010 but pick up steam later in the year, with computer equipment (especially PCs and storage) and software leading the way, and IT consulting services following.
Again, there are differences in outlook among 2010 storage outlook research when it comes to how much spending might rebound in 2010 from 2009 levels, as well as whether the rebound will be focused on capital expenditures (capex) or operational expenditures (opex). While IDC's 2010 predictions reported on last week predicts IT will undergo "a shift away from capital cost efficiencies to operational cost efficiencies" and the development of "a business-level bias in most companies toward virtualized and/or services-oriented offerings for storage solutions," from ESG's perspective that transition happened last year.
While IDC predicts continued spending constraints leading to evaluatoin of services offerings among storage pros, ESG sees justifications for purchases this year trending to "more than just cost-cutting", according to ESG analyst Mark Peters. "We're seeing the beginning of a shift toward getting back to business in IT," he said. "There's a bit of a softening and cautious optimism."
According to the preliminary ESG research report, of approximately 500 respondents, 52% said IT spending would increase from the previous year, as opposed to 43% in 2009.
Meanwhile, Symantec's survey respondents still see budget constraints in 2010, particularly when it comes to operational costs like staffing. "Half of all enterprises are somewhat/extremely understaffed," Symantec's report reads. "Networking, virtualization and security [are] the most understaffed. [The] biggest issues [are] Budget and finding qualified applicants. 76% have the same or more open job requisitions this year."
Unified or smart computing — another word for efficiency?
Forrester's report identifies a set of concepts it calls Smart Computing as leading the next wave of tech innovation this year, described as "leading-edge technologies like service-oriented architecture (SOA), server and storage virtualization, videoconferencing, unified communications platforms, business intelligence and analytics, and new process apps built on digital business application principles." Like ESG, Forrester forecasts a return to business priorities as opposed to simpler cost-cutting justifications for purchases:
As 2010 progresses and the memories of the 2009 downturn fade, CIOs will start to pay attention to the ways that a new generation of technology can help achieve better business results. In this period of tech innovation and growth around Smart Computing, reference clients and "low totalcost- of-ownership" marketing become less important than media coverage and buzz in the blogosphere about how your solutions have helped companies achieve breakthrough business results. Companies will want technologies that put them ahead of competitors, not technologies that are the same as what competitors are using.

ESG uses the term "unified computing" to describe the server / software / storage IT stacks offered by larger vendors last year. According to McKnight's email,
one of the only areas in our 2010 survey where the midmarket shows increased interest compared to enterprises (to tie this question to the one above) is in the area of unified computing – 17% of midmarket respondent put unified computing (i.e., integrated server/storage/networking stack) in their top 10 list of 2010 IT priorities compared to 11% of enterprises. Again, there's a fair bit of conventional wisdom out there that says that these new unified computing platforms will be most attractive to large enterprises and service providers, but this data actually corroborates discussions ESG has had with a number of end-users, most of whom have indicated that they view the real niche for unified computing as being smaller organizations or smaller locations (i.e. ROBOs) of big firms.
Disaster Recovery–IT's New Year's Resolution
The social networking apps I use to communicate with friends have been full of complaints this month from regular gym-goers about the "New Year's Resolution" crowd they expect to vanish by February. I'm reminded of that kind of recurring but short-lived New Year's resolution when, every year at about this time for at least the last three years, the discussion has turned to disaster recovery.
Eighty percent of respondents to Symantec's data center survey said they were confident in their DR plan, but as with Symantec's SMB survey last September, that confidence isn't necessarily supported by facts. The data center survey found that one-third of respondents do not have a documented DR plan, that DR plan hasn't been re-evaluated in the last 12 months, and a significant proportion don't address cloud computing (41%), remote offices (28%) or virtual servers (23%).
So why this perennial focus on disaster recovery seemingly without significant improvement or change in practice? "The inference we're making is that it has to do with staffing problems," Symantec's Lodge said. "It increases expectations on the vendor side to help with [automating DR]."
"Most organizations don't have a formal DR plan that's regularly tested," ESG's McKnight adds. "There's a difference between DR as a business priority as opposed to how it translates into specific formal processes and technologies. Having a plan and testing and improving on that plan are different questions."