News
Stay informed about the latest enterprise technology news and product updates.
EMC's Tucci: "we're taking a virtualized approach"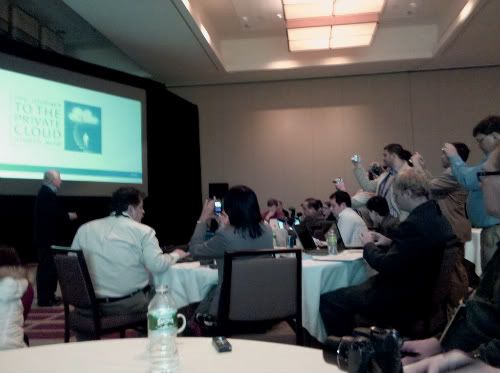 Joe Tucci vs. the paparazzi in the press briefing room Monday morning at EMC World.
EMC CEO Joe Tucci officially kicked off EMC World 2010 with a keynote speech this morning that included an obvious reference to Oracle Corp.'s "stack" offerings. "Other companies are building the whole stack," including servers, database, middleware and storage, Tucci said (it's the reference to database and middleware that's the Oracle giveaway).
Tucci said this approach will lead to a siloed data center, as with previous waves of IT that now includes silos of mainframe and distributed systems at many enterprises. "If three or four vendors do it and you're not using everything from one vendor, you'll have stacks that run into the same problems we have today," Tucci said. "We also have a stack," he said, referring to EMC's vBlock products with Cisco and VMware, "but rather than a verticalization approach, we're taking a virtualization approach."
Tucci also referred to EMC's most recent Digital Universe report on data growth, and outlined EMC's general vision for managing that growth using cloud computing and data center federation. While much of the data growth will be introduced by consumers using mobile phones that send multimedia such as photos and video, or specialized machines like medical imaging devices, some 80% of the data will still be managed by enterprises, Tucci said. "You won't have to buy [resources] for the peaks of the year or the day When you reach the peaks, you can federate," Tucci said.
In support of this vision, EMC announced VPlex, a new wide-area caching device that will pool data over geographic distance this morning.
In a Q&A session following the keynote, Tucci was asked about acquisition strategies given EMC's estimated $6.5 million in free cash per its most recent 10-Q. Despite this free cash flow and the $2 billion acquisition of Data Domain last year, Tucci said he still prefers the "string of pearls" acquisition approach. So far this year, EMC has bought one company, Archer Technologies, LLC, a provider of governance, risk, and compliance software.
After Tucci mentioned EMC needs to compete better in the low end of the midrange on EMC's last earnings call, its Iomega division came out with the ix12-300r, which blurred the lines between the top end of the Iomega line and the low end of EMC's Clariion and Celerra lines. Would the new low-midrange products Tucci alluded to on that earnings call come from the Iomega or Clariion/Celerra side? "We will have a line with functionality from Clariion and Celerra that will be driven significantly downmarket," Tucci said. "Iomega will remain below that."