News
Stay informed about the latest enterprise technology news and product updates.
EMC hashes out enterprise archiving SaaS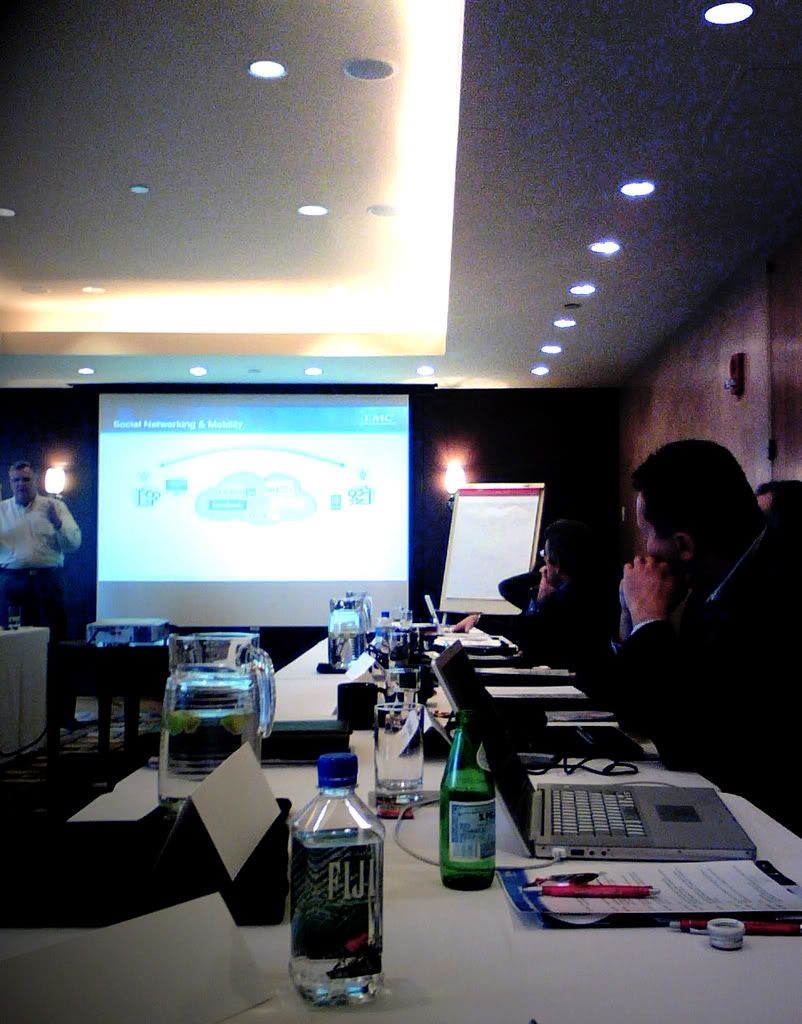 If you've been following the data archiving and compliance markets, you've probably heard the consensus that the real boom in software as a service (SaaS) will come from small to midsized businesses (SMBs). That's the prevailing wisdom among analysts, anyway, as far as I've heard.
But EMC revealed today at a Writers Summit in Boston that it intends to push its Fortress-based SaaS offering into the high end space with a hybrid approach to on-site and off-site archiving.
The event today was unusual, at least compared with the rest of my experience in the industry. There were no end users or high-profile industry analyst firms represented and hardly any trade press, either. Most of the attendees were technology writers from new mediums such as blogs and Wikis. EMC executives explained that they wanted the summit to be an interactive discussion around industry trends (read: free help for their marketing research?).
It was an odd situation for me, since I'm used to listening and asking questions at industry events, rather than offering opinions. Along the way, though, the EMC execs dropped a few nuggets about their plans. Convergence was a pervasive theme–and the SaaS plans fit into it. EMC predicted a convergence not only between traditional technologies and new mobile technologies (that's why they bought a stealth startup with no product on the market yet, in Pi) but between on-site and off-site data repositories.
The new aim of the Content Management and Archiving unit at EMC is to use Documentum to unify pieces of its archiving portfolio (CMA president Mark Lewis says EmaileXtender will be integrated into Documentum by mid-year), and also to unify those repositories. Lewis and Documentum founder Howard Shao, now EMC senior VP of CMA, said in their view there are four factors influencing this approach: enterprise content management and archiving place significant demands on outsourced infrastructures, especially when it comes to network bandwidth; companies are wary of letting sensitive, regulated data outside their firewalls; any application you'd want to deliver through SaaS is inextricable from applications that remain on-site; and that the volume and value of archival storage dictates a tiered approach.
This sparked some debate among some of the pundits at the meeting. Carl Frappaolo, VP of market intelligence for enterprise content management (ECM) industry association AIIM, pointed out that the biggest reasons companies resist deploying ECM is because of complexity. "Aren't you just adding complexity to the equation?" he asked. Shao countered that a complex problem or a complex back-end doesn't mean that management can't be simple.
Kahn Consulting Inc.'s Barclay Blair piped up in support of Shao's view that users will be wary of letting certain data outside their firewalls, but said "our clients would be attracted to a model that keeps the information on-site, but has the applications which manage the information being managed for them by someone else."
Countered Frappaolo, "If EMC is doing its job right, shouldn't users be willing to trust data to them? The whole idea is that you're supposed to be better at security than me, and I should trust you to keep from exposing private data both inside and outside the data center."
At any rate, the upshot according to Lewis will be a rollout of this hybrid ECM SaaS model by the end of this year. Another thing I got out of this discussion, with all its focus on security and privacy within a multitenant repository, is a clearer reason why EMC spent all that money on RSA.