News
Stay informed about the latest enterprise technology news and product updates.
EMC World Reporter's Notebook and Photos
This attendee (actually one of the Universal Studios performers who would play the Blues Brothers on the show floor) is wearing one of the blue-horned Brumhilde helmets that were given out at the welcome reception / concert. I never found out the significance of the helmets, though obviously blue corresponds with the "Beat Your Backup Blues" slogan…
VMax to add native VPlex capabilities
According to an EMC whitepaper on the architecture of the VPlex storage virtualization product it launched this week, "VPlex Local supports local federation today. EMC Symmetrix VMax hardware also adds local federation capabilities natively to the array later in 2010 and will work independently of the VPlex family." One observer's response: "Why buy [a separate] VPlex?"
***
More shots from the welcome reception and Counting Crows concert:
***
EMC keynote speaker previews future infrastructure management offerings
During a keynote by EMC EVP/COO Pat Gelsinger on Monday, EMC VMware czar Chad Sakac previewed some new "service oriented" features of the Ionix infrastructure management software product line, including the next Ionix Unified Infrastructure Manager (2.0) and Project Redwood. Redwood is a planned user self-service portal planned as a future capability of VMware. There's talk that Redwood will also be integrated with EMC's VPlex to give access to data across geographic distance. UIM 2.0, meanwhile, will add chargeback and other features to the software that Sakac said will make internal IT more like a service, including multi-tenancy, chargeback and SLA-based provisioning.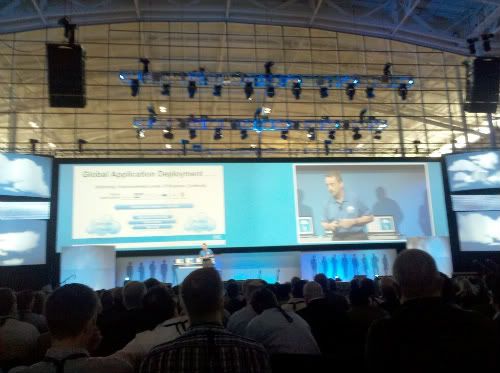 Pat Gelsinger's keynote on the main stage Monday afternoon.
FLARE/DART and midrange array unification – connecting the dots
EMC ended months of speculation about the convergence of its Clariion and Celerra midrange disk array products with an announcement of a unified management console for the two offerings, as well as disclosures by executives that further convergence is on its way. That convergence includes common replication tools and a more consolidated hardware footprint. Today, while Celerra's gateway can front a Clariion array, the two engines that make a Clariion a Clariion (FLARE) and a Celerra a Celerra (DART) remain separate entities. If further unification is to take place, there are three options: 1) mash the two code bases together into one 2) run them alongside one another using server virtualization within a single storage server 3) run them alongside one another using separate cores of a multicore processor.
While EMC has finally copped to the fact that it is condensing its platforms, officials from the C-suite on down continue to insist that they will make either standalone offering available to people who want it (in other words, no plan to end-of-life one or the other).
Speculation about plans to mash together code, meanwhile, seem to have come from NetApp's competitive analysis, which concluded the two codebases will be brought together under something called the Common Block File System (CBFS), an EMC answer to WAFL. CBFS already exists, handling thin provisioning and block compression for both arrays, and it's possible its role could expand.
Mark Sorenson, senior vice president of EMC's Unified Storage Division, declined to say exactly how the consolidation might work, but seemed to eliminate a combined codebase when, after presented with the three options for unification, answered (I thought rather pointedly) that server virtualization and multicore processors are "good, new, enabling technologies for consolidation." Mashing the code together under CBFS also wouldn't necessarily make sense if EMC plans to continue to sell one-off standalone offerings depending on what users ask for.
Other insiders hinted that the multicore processor route is the one that EMC will take, saying "stuff that's just coming to maturation will come to the fore." This would seem to fit with Intel's continued development of multicore processor chip sets, as well as Gelsinger's prior experience as an executive at Intel.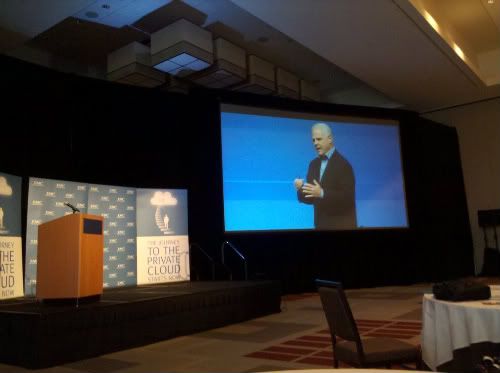 EMC CEO Joe Tucci's opening keynote was piped into the press room.
Centera, Atmos, V-Max – the next place for product convergence?
With Celerra/Clariion coming together, a thought struck me as I stood on the show floor at EMC World Wednesday, surveying the happily humming racks whirring away at several separate booths. There was a Centera Virtual Archive set up, with one box labeled "London" and the other local to show how Centera data can be federated over distance. In another, a Symmetrix V-Max, demonstrating how data can be federated over multiple arrays in a mesh architecture for scalability. And finally, there was a tutorial being given on VPlex, a new virtualization product that can be used to virtualize multiple modular arrays and…federate data over distance. To complete the circle, see item above about V-Max adding native VPlex capabilities. Not shown: Atmos, which also consists of a scale-out system built on commodity hardware with an object interface that can be used to federate unstructured…do you see where I'm going with this?
I talked with one of the booth workers about the Centera a little bit. I asked her what the real difference is between Centera, especially the Centera Virtual Archive, and Atmos specifically. She mentioned the number of ISVs that have already written to Centera, the fact that it uses MD5 hashing to demonstrate objects have not been modified, etc. But is there anything about those different features that couldn't be ported to one of the other boxes? Particularly since Atmos and Centera are object-based already?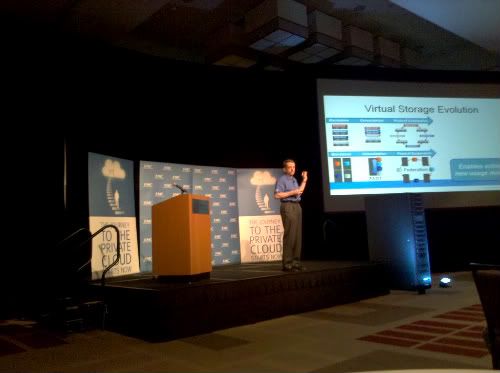 Gelsinger briefs press and analysts.
Experts hash out FAST Cache, potential future features
I already included some of the discussion between Gestalt IT's Stephen Foskett and DeepStorage.net's Howard Marks about FAST 2 in my piece about updates to Clariion and Celerra but the two self-described geeks also chewed over FAST Cache pretty thoroughly Tuesday.
Foskett and Marks both pumped EMC's Sorenson for details on the use cases of FAST 2 vs. FAST Cache. Sorenson said FAST is meant to place data on tiers of storage according to historical performance characteristics, something Foskett described as "driving using the rear-view mirror." FAST Cache would be for "bursty" unanticipated performance spikes.
Marks said he'd like to see more user control and predictive features added to FAST Cache, so that if users know which data will become hot at a later date, say, the end of a quarter, they can schedule a move up to cache and back out again when the burst is over. This also might allow users to create an "exclude list" of data that shouldn't be put in cache regardless of access patterns. Sorenson said it was something EMC was considering exposing to ISVs through an API set, ISVs like, say, VMware.
"But," Foskett pointed out, "previous attempts at user-tunable caches were colossal failures. I can see some use cases, but it's probably better to turn it on and leave it alone." But some awareness within the cache of files as well as blocks – the better to put file metadata in cache, for example – was something Foskett said EMC should consider, and something Sorenson also said was possible down the road. "That dream of file-level Flash cache is what Sun has with ZFS and Avere has also described already," Foskett pointed out.
The Bloggers' Lounge, seen from the main keynote hall escalator.
Compellent fires back at VPlex; NetApp still snarking
EMC's VPlex and midrange disk array announcements this week have caused a stir among competitors who have begun trying to pick apart EMC's news.
I would have expected Compellent to start in right away on FAST 2 given its own sub-LUN tiered storage features, but Compellent reps said they haven't dug into FAST 2's inner workings yet to offer a detailed comparison.
In the meantime, Compellent issued a statement pitting its LiveVolume data migration feature against VPlex:
There are a few similarities between VPLEX and Compellent's Live Volume technology. Both solutions tackle the problem of non-disruptive volume migration, which is useful in disaster avoidance, load balancing or maintenance situations. That's where the similarities end.

The EMC solution requires multiple high-end VPLEX hardware engines and many high bandwidth, low latency network connections. Compellent's focus is on integrating a software solution that scales. EMC has a significant focus on high-end bandwidth, and all that comes with a hefty price tag (about $77k for a local-only, interconnect system vs. the $5k license for Live Volume).

VPLEX is designed as an add-on set of rack-mounted servers, which requires a change in the data center topology and the addition of a new in-between configuration. Compellent's Live Volume is a software solution that fits in with Compellent's Fluid Data architecture, meaning that it supports any Storage Center configuration or network connections, and can leverage existing network connections without impact on write performance.
Meanwhile, in case you'd forgotten how bitter the rivalry remains between NetApp and EMC, look no further than NetApp's response to EMC's midrange storage announcement:
Yesterday's announcements demonstrate that EMC has finally realized the importance of storage efficiency. NetApp is the undisputed industry leader in storage – from measurement to capabilities, from efficiency guarantees to reporting and optimization – across all systems, management products and workloads such as virtualization and database environments. EMC is clearly following our lead, but NetApp, with its V-Series open systems controller able to optimize an EMC system, continues to deliver greater value and storage efficiency than EMC can deliver natively on its own systems.