News
Stay informed about the latest enterprise technology news and product updates.
EMC World 2014 opens with cloud appliance, ViPR upgrade
LAS VEGAS — EMC World 2014 opened this morning with the launch of a cloud storage appliance and the next version of ViPR. The products represent two areas that EMC will focus on during the four-day conference – the cloud and software-defined storage.

Download this free guide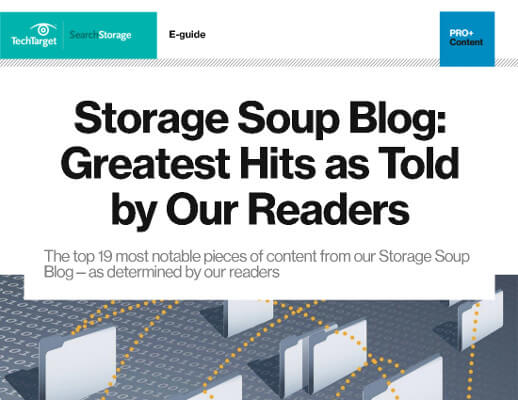 Can't get enough Storage Soup?
We understand! That's why we've compiled the most viewed blogs from 2018 for you in this easily downloadable PDF. From technologies like hyper-converged clouds and TLC 3D NAND to new launches from HPE and NetApp's cloud-flash pivot, our editors have you covered.
EMC first unveiled the concept of ViPR at last year's EMC World, and began shipping the software last fall with support for object storage and EMC VNX, VMAX, and Isilon arrays as well as NetApp arrays. The 1.1 upgrade in January added support for Hadoop and EMC Storage Resource Management suite but no additional arrays.
ViPR 2.0 supports HDS and commodity storage natively. Support for Dell, Hewlett-Packard and IBM arrays requires an OpenStack Cinder block storage plug-in. The new version of ViPR also includes geo-distribution and multi-tenancy support for clouds.
The EMC Elastic Cloud Storage (ECS) Appliance – known as Project Nile during its beta — is designed for public and hybrid clouds, and will scale to 2.9 PB in one rack. ECS is built on the ViPR platform. EMC did not offer many specifics in its initial press release, but more information will be available during the conference.
In a blog posted this morning, Manuvir Das, EMC's VP of engineering for its advanced software division, listed features of the ECS appliance:
Universal protocol support in a single platform with support for block, object, and HDFS [Hadoop distributed file system]
Single management view across multiple types of infrastructures
Multi-site, active-active architecture with a single global namespace enabling the management of a geographically distributed environment as a single logical resource using metadata-driven policies to distribute and protect content, and
Multi-tenancy support, detailed metering, and an intuitive self-service portal, as well as billing integration.