News
Stay informed about the latest enterprise technology news and product updates.
Broadcom reportedly ready to swallow Brocade
Brocade, the largest Fibre Channel networking vendor, could be joining the Broadcom empire soon.
Bloomberg reports that Brocade is close to being acquired and that Broadcom is among the interested parties. Bloomberg mentioned no other possible suitors. The story and talk of the deal helped Brocade's stock price soar 21.98% today.

Download this free guide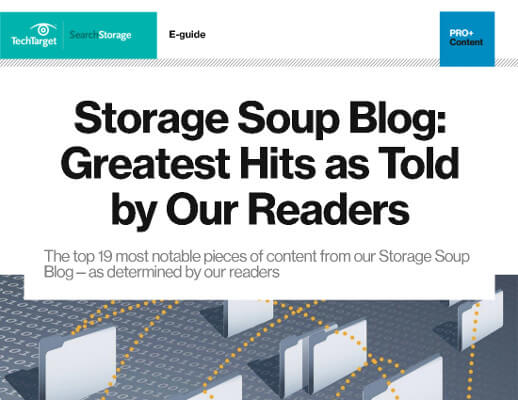 Can't get enough Storage Soup?
We understand! That's why we've compiled the most viewed blogs from 2018 for you in this easily downloadable PDF. From technologies like hyper-converged clouds and TLC 3D NAND to new launches from HPE and NetApp's cloud-flash pivot, our editors have you covered.
A Brocade deal would fit in with Broadcom's recent strategy and its current products. Broadcom chips are used in Fibre Channel and Ethernet switches. Avago Technologies bought Broadcom for $37 billion in 2015 and changed the company name to Broadcom this year. Avago also acquired Emulex for $606 million in 2015, picking up Emulex's Fibre Channel host adapter and Ethernet adapter business. Brocade is the FC switching leader, with Cisco its only rival, and also sells Ethernet switching from its 2008 acquisition of Foundry. Brocade acquired Ruckus Wireless for $1.2 billion last April.
Broadcom's enterprise storage revenue of $527 million last quarter represented 14% of its overall revenue. Brocade reported $591 in total revenue last quarter, with $282 million coming from SAN products.
The Bloomberg report said a Brocade deal could be disclosed this week.
Brocade actively shopped itself soon after buying Foundry, but Hewlett-Packard acquired 3Com instead in 2009 and Dell bought Force10 in 2011. Talk of an acquisition cooled after Brocade hired Lloyd Carney as CEO in 2013.