News
Stay informed about the latest enterprise technology news and product updates.
BakBone broadens its message
Ten days after picking up Exchange CDP vendor Asempra, BakBone Software Thursday grabbed an entire message management division.
BakBone acquired ColdSpark for $15.9 million in cash and stock, and ColdSpark's products will make up BakBone's new division. ColdSpark founder and CTO Scott Brown becomes general manager of the message management group.
.
With Asempra, ColdSpark and BakBone's NetVault platform, BakBone can protect data in a structured repository or file system or in motion as it moves across messaging systems. This also brings it beyond pure backup, where it probably can be no more than a niche player in a market where it competes with Symantec, EMC, IBM, Hewlett-Packard, CA, and CommVault. Now BakBone is a player in email management as well. That's another crowded market, but there is still opportunity for a small player.

Download this free guide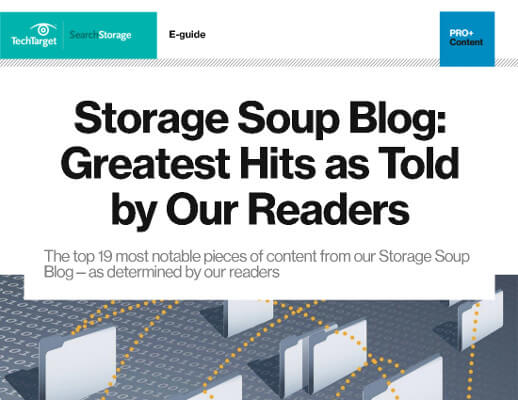 Can't get enough Storage Soup?
We understand! That's why we've compiled the most viewed blogs from 2018 for you in this easily downloadable PDF. From technologies like hyper-converged clouds and TLC 3D NAND to new launches from HPE and NetApp's cloud-flash pivot, our editors have you covered.
BakBone's shopping spree comes within months of its taking a big step to remove a cloud that has hovered over the company for years. BakBone was knocked off the Toronto Stock Exchange in 2004 after accounting irregularities forced it to restate earnings for 2003 and 2004. It has been working on getting its books in compliance and current since then, and finally did that in February by filing annual reports for 2007, 2008 and the first three quarters of its 2009 fiscal year. BakBone is working on getting re-listed now that is financials are caught up.
My guess is BakBone will continue to move aggressively in the coming months, whether it's making more acquisitions or pushing out its message about messaging.