News
Stay informed about the latest enterprise technology news and product updates.
Another former EMC'er joins HP Storage
The storage Twitter-sphere was abuzz this morning with reports from bloggers attending HP's Storage Day, an event for end-user and partner bloggers to hear about HP's vision for storage.

Download this free guide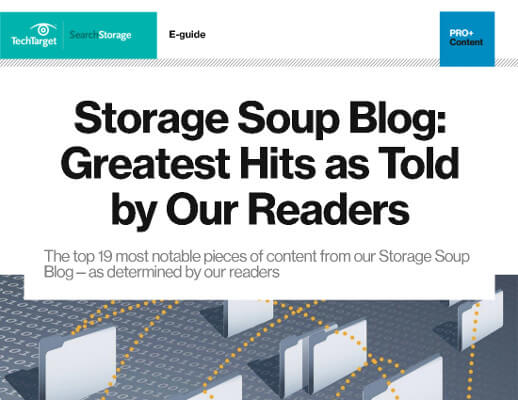 Can't get enough Storage Soup?
We understand! That's why we've compiled the most viewed blogs from 2018 for you in this easily downloadable PDF. From technologies like hyper-converged clouds and TLC 3D NAND to new launches from HPE and NetApp's cloud-flash pivot, our editors have you covered.
Among those tweets a familiar name began to pop up: Tom Joyce, whom I first met when he was working in product marketing for EMC Corp. Joyce left EMC and was appointed CEO of Akorri Inc. in 2007; he left Akorri for Stratus in 2009 but has now resurfaced in HP's StorageWorks division. An HP spokesperson confirmed this morning that Joyce joined the HP StorageWorks group as its vice president of marketing in late February.
Joyce joins HP in the wake of last year's high-profile defection of former EMC storage division head David Donatelli to HP, where he serves as EVP of servers, storage and networking.
Joyce joins Patrick Eitenbichler in HP's StorageWorks division. According to Eitenbichler's LinkedIn profile, he is now director of marketing for HP Software. An HP spokesperson wrote in an email to Storage Soup today that there have been "no other [executive] changes I'm aware of."