News
Stay informed about the latest enterprise technology news and product updates.
Actifio adds central copy data management interface
Nearly five years into sales of its copy data virtualization, Actifio is finding customers are looking for a simpler way to manage data across its appliances.

Download this free guide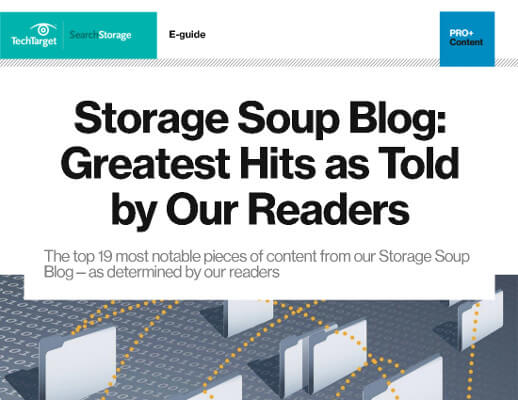 Can't get enough Storage Soup?
We understand! That's why we've compiled the most viewed blogs from 2018 for you in this easily downloadable PDF. From technologies like hyper-converged clouds and TLC 3D NAND to new launches from HPE and NetApp's cloud-flash pivot, our editors have you covered.
Today the vendor launched Actifio Global Manager (AGM) and a new Actifio Report Manager to give customers one HTML5 screen to manage their installed appliances.
AGM lets customers set service level agreement-based management from one interface. Actifio previously had a report manager, but the new one is re-designed with a new engine to create, manage and view reports on application, protection and recovery job performance, and SLA compliance.
Until now, Actifio customers used a desktop user interface to manage one appliance at a time. Chandra Reddy, Actifio's vice president of product marketing, said the average Actifio enterprise customer uses Actifio to protect 100 TB of data, and some protect petabytes. To protect 100 TB, an organization would need two appliances on site and two more at a remote site for DR. Those four appliances would be managed separately without AGM.
Service providers might use 30 or more appliances, Reddy said.
"Now a customer can go to a single dashboard and get an aggregated view," he said.
Customers can use AGM to migrate applications between Actifio appliances and to load balance applications across appliances. AGM also allows customers to manage processes such as snapshots, deduplication, live cloning and replication.
"Customers want a single centralized pane of glass to manage, monitor and troubleshoot thousands of protected virtual machines," Reddy said. "That was the genesis of AGM."
AGM will require a separate license. For new customers, AGM is free for the first two Actifio appliances and existing customers will not be charged for their first 10 appliances.