Evaluate
Weigh the pros and cons of technologies, products and projects you are considering.
A defense of tape storage systems and how they're improving
Tape gets less respect than Rodney Dangerfield among the IT crowd. But tape still has its staunch defenders who say the medium remains technologically sound and continues to improve.

Download this free guide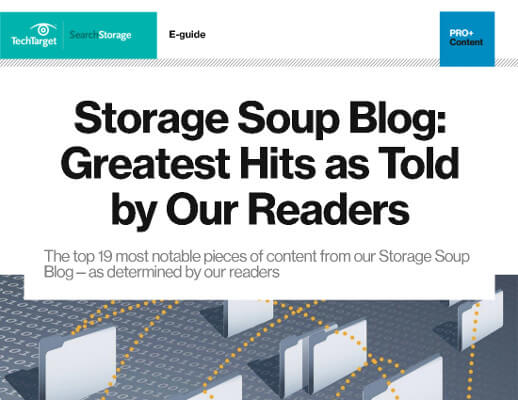 Can't get enough Storage Soup?
We understand! That's why we've compiled the most viewed blogs from 2018 for you in this easily downloadable PDF. From technologies like hyper-converged clouds and TLC 3D NAND to new launches from HPE and NetApp's cloud-flash pivot, our editors have you covered.
A major challenge is being able to communicate the advantages of tape storage systems, Fred Moore, president of Horison Information Strategies, said at the Fujifilm Global IT Executive Summit in Boston last month.
"The game has really changed," as tape storage systems have made progress in the last 10 years, Moore said. "That's the good news." The bad news, he said, is that people don't know it yet.
There is a tendency now to favor the tactical quick fix over strategic planning and regard cloud as a storage game-changer, said Jon Toigo, managing principal of Toigo Partners International and founder and chairman of the Data Management Institute. That mindset leaves tape on the outside looking in.
But using tape is getting much simpler thanks to the Linear Tape File System, Toigo said at the summit.
Other advantages of tape storage systems include their affordability, security, energy efficiency, long life and reliability, said Calline Sanchez, vice president of enterprise storage at IBM, in her presentation at the summit.
As an archive medium, tape's capacity improvements are outperforming all other kinds of storage and it is ideal for storing less frequently accessed and modified data, Toigo said. LTO-7 offers 15 TB of compressed capacity and sustained data transfer rates of up to 750 megabytes per second for compressed data.
Is tape good for randomized access?
"No," Toigo said. "It never was."
But accessibility in tape storage systems is improving. Quantum, with its StorNext AEL6 appliance, combines the new Scalar i6 library with Quantum's StorNext data management software. StorNext enables easier access to data stored on tape, with options for CIFS, NFS and RESTful interfaces.
"When we announced the [new Scalar tape platform], it was in the context of helping companies manage the rapid growth of unstructured data," said Kieran Maloney, manager of archive and technical workflow solutions at Quantum.
The platform provides high-density storage for Quantum's overall multi-tier portfolio that includes hybrid flash, object-based, cloud and tape storage.
With the cloud, too many administrators "think about how they can leverage cloud to replace tape" instead of how they can leverage cloud with tape, Maloney said. But as the amount of data and its time in storage rise, the cloud becomes more difficult to afford.
It makes sense to use tape for cloud seeding, Toigo said.
Compared to disk, tape storage systems provide more security against ransomware attacks and other hacks. Since tape isn't online all the time, "it's easier to keep away from ransomware," Maloney said.
Disk is a breeding ground for hacks, Moore said.
So how does the tape community get its message out?
The message has to be engaging for millennials who don't know about the technology, Toigo said.
"When they get it, we've got a whole new generation of tape users."