Q
Problem solve
Get help with specific problems with your technologies, process and projects.
SAN vs. NAS: A diagram of the differences
NAS expert Randy Kerns outlines the differences in SAN and NAS using diagrams that illustrate each type of storage system.
I would like to know about the differences in SAN and NAS with the help of a diagram. Also please suggest where...
Continue Reading This Article
Enjoy this article as well as all of our content, including E-Guides, news, tips and more.
to position a SAN and NAS. How do you decide whether to use a SAN or NAS?
Basically, a SAN does block I/O just like having a disk directly attached to a server. A NAS is really remote file system I/O where the file request is redirected over a network to a device (really a processing entity with its own file system) where the file I/O is actually performed. Here are two pictures that give you a general idea of how the I/O is done between block (SAN) and remote file I/O (NAS):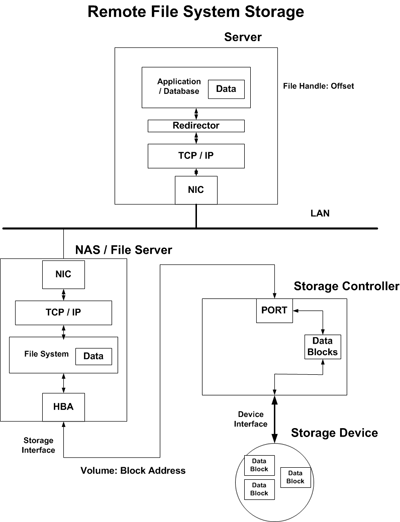 Deciding whether to use a SAN vs. NAS has many factors to consider so there's not a specific answer. In general if your application requires block I/O or there is a significant performance requirement, use a SAN. If it's file based I/O for the application or you need to share files and you want simple administration, use NAS.
Dig Deeper on Storage management tools
What is the one hidden gotcha that you'd advise users about if they were shopping for an all-flash storage array? Continue Reading
How much control do you have with all-flash storage arrays? How much control do you have over how arrays handle your data? Do you control the caching? Continue Reading
Vendors often publish numbers for 'usable' capacity versus 'effective' capacity. Can you explain this and how can you plan flash capacity needs with ... Continue Reading
Have a question for an expert?
Please add a title for your question
Get answers from a TechTarget expert on whatever's puzzling you.