Why Scale-Out Storage Is a Better Approach for Cloud and Enterprise Apps
There's a lot happening in enterprise IT these days. New delivery models, such as virtualization, the cloud and software-defined storage are changing the landscape. The rapid emergence of new technologies, such as in-memory databases and flash storage, has many IT organizations rethinking their storage options, especially for business-critical applications that rely on Microsoft and Oracle databases or SAP HANA.
If you haven't already done so, it may be time to re-examine your own storage requirements for enterprise applications and private cloud infrastructure.
Rethink Storage Performance
Three developments are having a major impact on storage performance requirements for enterprise applications and multi-tenant clouds:
Rethink Storage Lifecycle Operations
The traditional approach to data storage has been to rip and replace storage systems every three to five years. However, that approach is incompatible with the availability goals of today's enterprise IT organizations. Fortunately, there's a better alternative: Scale-out storage systems enable IT teams to add performance and capacity incrementally, perform nondisruptive data migrations, and take better advantage of rapidly declining storage media costs.
NetApp Enterprise Scale-Out Storage
NetApp has redesigned its entire FAS product line to deliver superior performance and reliability in a platform optimized for flash and scale-out. As NetApp Senior Vice President of Engineering Dave Mason describes it, "The result is a new generation of FAS hybrid storage hardware that is extremely well suited to meet the needs of today's enterprise and adapt flexibly to new IT delivery models, including software-defined storage and cloud."
The new flagship for enterprise workloads, the FAS8080 EX, is designed to address business-critical applications and also handle the "bursty" workloads that are typical in cloud environments.
The FAS8080 EX features a flexible architecture that can handle both SAN and NAS workloads with multiple options for accelerating application performance. You can combine different types of media in a single "HA pair," or use a scale-out approach and configure some nodes for all-flash, some for hybrid and some for HDD (for backup and archival needs, for instance). The benefits of this approach include:
All-flash array nodes can be used to support demanding OLTP applications and VDI deployments.
Hybrid flash array nodes can blend flash and HDDs to optimize both performance and storage capacity.
Clustered Data ONTAP® software lets you transparently move data among performance and capacity tiers as your needs change.
With support for up to 256 GB of memory, 384 TB of raw SSD capacity and 40 Intel Ivy Bridge CPU cores, a single FAS8080 EX HA pair can meet the performance demands of applications that overwhelm the capabilities of legacy scale-up frame arrays. In scale-out configurations, it can provide up to 70 petabytes of HDD capacity, or 4.6 PB of SSD capacity and nearly 4 million IOPS—enough capacity and performance to future-proof almost any data storage environment.
These specifications allow the FAS8080 EX to support business-critical workloads along with back-end data management tasks—with the headroom to accommodate unexpected spikes. Testing of all-flash configurations with VDI workloads has shown the FAS8080 EX outperforming several leading all-flash competitors, such as the EMC XtremIO platform.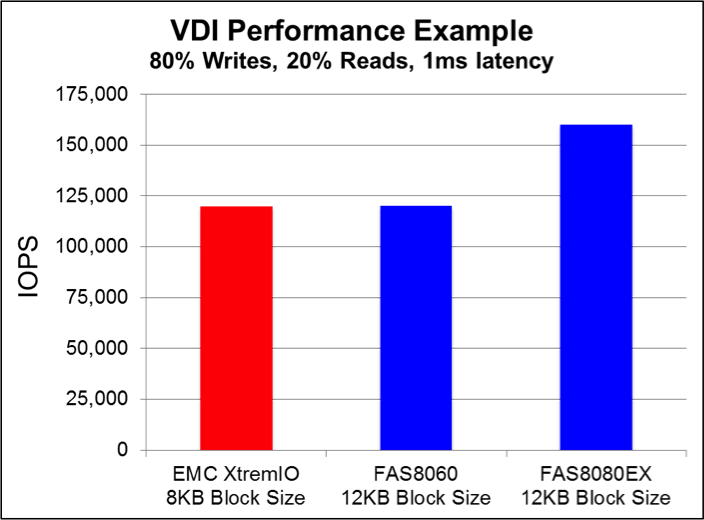 Learn more about the FAS8080 EX by visiting our Tech OnTap® Community.