Should You Adopt a Cloud First Strategy?
The concept of a "Cloud First" strategy began in the U.S. federal government and has since spread into the commercial sector. Is it a viable option for your organization? Here are some success stories worth considering:
Cloud First was a mandate issued to all federal agencies by the chief information officer of the United States in December 2010. By 2012, a subsequent report to Congress showed that more than half of all federal agencies had adopted cloud computing for at least one application.
The Cloud First mandate was a follow on to an earlier government IT initiative: the Federal Data Center Consolidation Initiative (FDCCI). To date, FDCCI has tracked 1,000 federal data centers that have closed or are scheduled to close in 2014; many of these closures are a direct result of cloud-delivered applications.
Despite the apparent government success, Cloud First has its share of detractors, including those critical of the trouble-prone launch of HealthCare.gov. Detractors quote studies that indicated that agencies don't seem to move to the cloud fast enough. They also tend to blame slow adoption on a lack of federal technical expertise in cloud deployments.
Cloud Success in the Government Sector
By now, there are many examples of productive cloud deployments within the federal government, including the following examples cited by MeriTalk:
Bureau of Alcohol, Tobacco, Firearms and Explosives (ATF): Cloud platforms don't have to be implemented at huge agencies to be productive. The ATF, with 4,700 employees, was able to save $1 million a year after it moved email to the cloud.
U.S. Department of Agriculture (USDA): This department with more than 100,000 employees also moved email to a public cloud. At the same time, it ran an internal private cloud enhanced by other vendor solutions. In its first three years, this internal/external cloud construct saved the USDA $75 million. The organization anticipates eventually reaching $200 million in savings.
The Recovery Accountability and Transparency Board (RATB): The RATB was created by the American Recovery and Reinvestment Act of 2009 to track stimulus spending. After migrating to Infrastructure as a Service on a public cloud, the RATB was able to save $854,800 in two years.
Cloud Success in the Commercial Sector
In the commercial sector, one company that made a bold move into the cloud is Veyance Technologies, a 6,000-person manufacturing firm based in Ohio. Typical for a company its size, the Veyance IT group supported about 120 applications running a variety of operating systems on multiple servers in various hosted locations.
According to CIO John Hill, Veyance wanted to move away from its siloed, multi-local architecture. The following diagram, while not specific to Veyance, represents a traditional IT infrastructure and illustrates how application and data management silos can develop.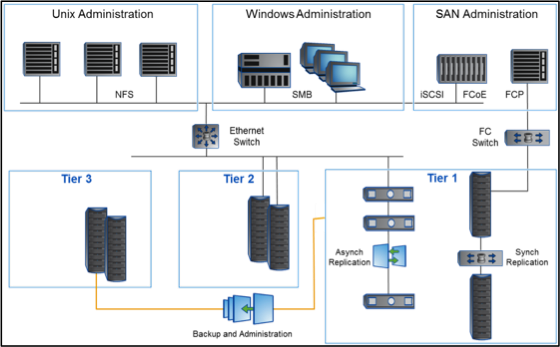 Source: NetApp
According to Hill, Veyance IT wanted to replace the silos to enable the company to operate as a "true global entity." Knowing that a traditional IT infrastructure would limit this ability, Hill embarked on his own type of Cloud First campaign. He began to move Veyance applications to Virtustream, a cloud-based service provider that specializes in business applications such as SAP®. He used every form of application migration available: virtual-to-virtual, physical-to-physical, physical-to-virtual, and even brute-force heterogeneous data migration.
Dozens of vendors and nearly 100 workers accomplished this feat in less than seven months, on budget and with no unplanned downtime.
The full cloud migration delivered impressive results: a 30% reduction in hosting costs and reduced equipment, licensing and labor costs—all with a substantial capacity increase. More important, when the information silos were removed, Veyance was able to streamline and coordinate global operations and improve overall productivity and collaboration.
Guidance for Moving Forward in the Cloud
Such cloud use cases, in both the federal and commercial sectors, lend credence to embracing a Cloud First strategy. If you are contemplating a similar path to the cloud, here are some tips from Hill's experience at Veyance:
Inventory is key: Hill stresses the need to "know your environment." This includes performing an extensive inventory to define dependencies or unknowns.
Choose providers with care: Make sure your service provider is "enterprise-focused," and provides "robust support" for various enterprise cloud computing scenarios, according to Hill.
Look for expertise in migration and colocation: Work with providers who can manage complex migrations and can colocate workloads that can't be moved to the cloud.
Standardize: Veyance successfully standardized on server, storage and networking technologies that were both highly scalable and high-performance.
Cloud First is one approach to embracing the cloud. There are many other paths to cloud success. Whichever path your company takes, having the right partners is key. For more information about how NetApp and its partners helped Veyance succeed in its transition to cloud services, watch this short video or download the case study.