Revlon Realizes Benefits of Private Cloud Storage
When it came time to build Revlon's private cloud, CIO David Giambruno began by standardizing systems and technology on a global scale. According to the Revlon CIO, "Simplification equals speed, and that speed provides agility. We do what the business needs—only faster, cheaper and better."
The benefits experienced by Revlon have been considerable, including:
More than $70 million in cost savings and cost avoidance over the past two years.
Automation that enables a single storage engineer to manage 3.6 petabytes (PB) of data with 30 terabytes (TB) of changes per week—work that used to require 10 people.

A 70% acceleration in application development and a 425% increase in the number of IT projects delivered.
Benefits of private cloud No. 1: Infrastructure Simplification
The Revlon private cloud strategy is based on simplicity: Single vendors were selected to provide the storage, server, virtualization and networking layers for the private cloud. Had Revlon gone with a multivendor approach, the company would have had to invest additional resources in infrastructure automation. Instead, the IT team can focus on developing new business intelligence applications.
Simplification in the production data center enables just two racks to house roughly 3.6 PB of private cloud storage and 800 virtual servers. Today, more than 530 applications—97% of the total—and all desktops are virtual machines running on VMware vSphere® and hosted on high-availability NetApp® enterprise storage systems. The NetApp systems also host SAP® front-end software and databases, Oracle® E-Business Suite Financials and dozens of other business-critical applications, such as Revlon's manufacturing support and legal systems.
In Revlon's four global factories, the data centers have been replaced with half-racks that provide 10 times the performance at one-eighth the cost, using an x86 server, NetApp storage and a commodity switch. Combined with changes in the production data center and disaster recovery (DR) sites, the smaller IT footprint has reduced costs by more than $70 million and cut Revlon's global power consumption by 72%.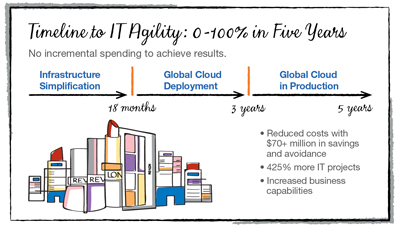 Source: Revlon Technical Case Study
Benefits of private cloud No. 2: Proven Disaster Recovery
After moving to NetApp storage systems, Revlon was able to regularly test its DR process, bringing up an instance of the entire company—or an individual country, site or application—in the DR data center. The process was put to the test in 2011, when a fire destroyed most of a Revlon facility in Venezuela. With the previous infrastructure, recovery would have cost millions of dollars and taken one to two weeks while people flew back and forth with suitcases full of tape backups. With the NetApp DR solution, Revlon was able to bring the factory systems back online in two hours.
The same DR process was used to make sure that Hurricane Sandy didn't disrupt the business as it bore down on the metro New York area in November 2012. The Revlon team used NetApp SnapMirror® replication technology to move the New York and New Jersey operations to a data center in North Carolina in under one hour. After the storm passed and the Revlon team confirmed that the facilities had escaped damage, the files were moved back across the network to the original data centers.
Benefits of private cloud No. 3: Transforms Big Data Into a Business Asset
After the private cloud and DR infrastructures were in place, Revlon IT turned its attention to transforming the 3.6 PB worth of big data from a management burden into a business asset. Revlon tracks 660 million SKU attributes monthly, and the IT organization is responsible for converting this data into actionable information. Previously, requests for new business intelligence applications had to wait until storage capacity could be added, after which a mirrored copy of the production databases was created, followed by extract, transform and load operations—not exactly a recipe for agility.
A new master data model was developed that pulls data from all global systems every 15 minutes, including both structured and unstructured data. After designing the master data model, Revlon IT created more than 20 multi-terabyte parent data sets and deployed NetApp FlexClone® technology to create copies of the data sets for development, testing and big data analysis.
The ease of creating zero-overhead clones has been transformative for Revlon. No extra infrastructure cost is incurred to mine the data and run experiments because the NetApp Data ONTAP® operating system creates the clones with zero storage overhead. Cloned copies of the data sets are now widely used for large-scale application testing, change control, creating golden images and even modeling the effect of different email retention policies on storage requirements.
NetApp Private Cloud Storage Solutions
Visit the NetApp website to learn more about how companies like Revlon are deploying private cloud storage solutions to lower costs and increase business agility.