Storage virtualization benefits: Increasing flexibility and utilization with virtualization
Our E-Guide will help storage professionals understand storage virtualization benefits and get started with their own storage virtualization project by providing purchasing tips, file virtualization best practices and more.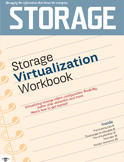 The storage capacity of your systems is efficiently allocated and used, data migration occurs seamlessly and when you do have to add more storage it simply becomes part of a pool of available capacity. Right? If you answered "Yes" to all three of these statements, you're in the midst of a good daydream, flat-out kidding yourself or one of a small but growing group of storage managers who have discovered the advantages of storage virtualization software products.

The idea of treating all installed storage—no matter whose label is attached to the box—as one big system has been...
Continue Reading This Article
Enjoy this article as well as all of our content, including E-Guides, news, tips and more.

By submitting your personal information, you agree that TechTarget and its partners may contact you regarding relevant content, products and special offers.

You also agree that your personal information may be transferred and processed in the United States, and that you have read and agree to the Terms of Use and the Privacy Policy.

around for a while. Storage virtualization benefits are apparent to many, so I won't dwell on them here. But for many storage managers, there's been kind of an approach-avoidance conflict surrounding virtualization. The benefits are tangible, but isn't it hard to do?

There's no single, well-defined route to virtualization—there are at least three of them—and that adds to the confusion. But, in most cases, one's existing storage environment will all but dictate which form of storage virtualization will work best.

Storage virtualization has also earned a reputation as being hard to implement and manage. No marketing hype from me—storage virtualization isn't exactly plug 'n play. But its deployment difficulties are often overblown, approaching urban legend status. It's not exactly "Let's virtualize all of this storage and go grab some lunch," but it's certainly something any savvy storage manager can handle.

Getting tied into a single vendor is another common concern about virtualization. But, again, it's likely your storage environment will be the key to overcoming this issue. Many shops have already gone the one-vendor route, while others divvy up their vendor preferences by storage tier. If you've made that sort of commitment, it's not much of a stretch to stick with that vendor to make better use of the storage it supplies. A back-out strategy is smart planning, but if you start small within controlled environments, you can lessen the risk considerably and give yourself some breathing room to iron out the wrinkles.

To dispel some of the apprehensions surrounding storage virtualization, we've put together this Storage Virtualization Workbook. It'll help you get a handle on storage virtualization software products and processes and explain some storage virtualization benefits.

--Rich Castagna, Editorial Director of the Storage Media Group

STORAGE VIRTUALIZATION WORKBOOK ESSENTIALS: TABLE OF CONTENTS
Purchasing tips: The storage demands of users and applications are spiraling out of control. Keeping pace with these demands usually requires adding disks and storage subsystems, which increases the burden on storage administrators. Storage virtualization alleviates these problems by implementing a layer of abstraction between applications and physical storage, allowing storage to be combined and treated as a ubiquitous resource, regardless of location.
Three ways to virtualize: Virtualization is showing up in all layers of the storage infrastructure. Host, network and storage system-based block virtualization can each simplify volume management, ease data migrations and decrease storage provisioning times, but all of them increase the complexity of managing a storage environment. Here are the pros and cons of these approaches to virtualization.
File virtualization: File virtualization products have emerged because of a common pain point with NAS systems: file-system size limitations. While the field is limited, there are some significant players offering file virtualization products. Here's what they offer and how the products differ.
Tech tips: Server virtualization promises to bring huge benefits to storage fabrics. But making storage and virtual machines work well together is still a work in progress. The following seven questions will help you decide what type of virtualization products best fit your storage environment.
Dig Deeper on Storage virtualization
PRO+
Content
Find more PRO+ content and other member only offers, here.