Green storage essentials: Addressing power, cooling and space issues
This green storage guide provides storage pros with power-saving tips and storage efficiency metrics that address power, cooling and space issues in their storage infrastructure.
FROM THE ESSENTIAL GUIDE: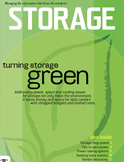 With energy costs on the rise, storage administrators are looking to green storage technologies to help run their data centers more efficiently. In the past, data storage systems were immune from the scrutiny of data center managers who pored over power requirements of computing gear looking to trim electric and cooling costs. Because the server side of the shop tended to get more notice than workmanlike storage systems, it got most of the power-cutting attention. But things have changed and—blip!—storage is all over those screens these days.
Continue Reading This Article
Enjoy this article as well as all of our content, including E-Guides, news, tips and more.

By submitting your personal information, you agree that TechTarget and its partners may contact you regarding relevant content, products and special offers.

You also agree that your personal information may be transferred and processed in the United States, and that you have read and agree to the Terms of Use and the Privacy Policy.

Many shops have had success in reducing server power consumption with blade systems and server virtualization. With servers sipping less and less juice, attention has fallen squarely on storage systems that consume anywhere between 24% and 40% of total IT power usage and stick out as the biggest power hogs in the data center.

It'll take shrewd planning, an understanding of a new set of metrics and a little legerdemain to find ways to reduce the power consumption of storage gear and still provide the capacity the company wants. Storage vendors are well aware of this new exigency, preparing new products or enhancing existing ones to help storage managers stem the tide of power consumption.

But just slapping the word "green" on a product does little to ensure that it will provide some electrical relief. Data reduction will also play a key role in any power-conserving efforts. You'll probably have to adjust some of your internal data management processes to ensure that you're not running up excessive power bills by spinning too many disks.

You also need to determine what metrics you'll need to accurately measure power consumption in your shop and the results of your efforts. If this hasn't happened to you yet, it will. Someone in your organization will put together storage and electrical use, and you'll be on the hot seat.

This E-Guide will get you started or, if you're already in the midst of a power-pruning project, help you further along your way.

--Rich Castagna, Editorial Director of the Storage Media Group

TABLE OF CONTENTS FOR THE GREEN STORAGE ESSENTIAL GUIDE
Storage hogs power: For all the talk about green storage, the power-saving initiative remains more of a server issue than a disk storage issue. But that may change due to the rapidly increasing rate of data growth and the continuing energy pinch.
Tips to save power: Power and cooling issues have become a hot (pun intended) topic for IT-related equipment, especially video monitors, servers, networks and storage systems. The reasons for having an interest in power and cooling can be tied to green initiatives, budget concerns (rising energy prices), or the need to support the growth of your applications and data requirements with an existing power and cooling capability.
Power saving options: Just as the power crunch, which began in the server industry, has become the future for storage, the approaches to fixing the problem may originate there as well. According to some experts, research on the server side into methods to reduce the number of power conversions required to get energy from a wall socket into a computer could drastically reduce power consumption in servers and storage if the methods were widely adopted.
Seeking more metrics: Everyone's trying to measure power usage in data centers. So it's clear why nonprofit organizations such as The Green Grid—a consortium of IT firms promoting energy efficiency through user-centric metrics, standards development and best practices—are trying to measure data center power usage. So why do storage-specific metrics remain elusive?
PRO+
Content
Find more PRO+ content and other member only offers, here.