Problem solve
Get help with specific problems with your technologies, process and projects.
StoneFly correctly positions its Storage Concentrator
StoneFly correctly positions it's Storage Concentrator
StoneFly Networks announced the Storage Concentrator, which is described as an IP SAN appliance. The Storage Concentrator...
Continue Reading This Article
Enjoy this article as well as all of our content, including E-Guides, news, tips and more.
By submitting your personal information, you agree that TechTarget and its partners may contact you regarding relevant content, products and special offers.
You also agree that your personal information may be transferred and processed in the United States, and that you have read and agree to the Terms of Use and the Privacy Policy.
provides the ability to connect various storage devices to an IP SAN network with the storage abstracted to attached servers while providing block access to data.
The Storage Concentrator announcement brings to market a storage-networking appliance targeted at the small to medium business environments where there are no storage professionals and an IP infrastructure is currently in use. The Storage Concentrator has features and extensible capabilities similar to higher-end virtualization solutions that are targeted at enterprise data center environments with the requisite storage professional staff. This is a storage networking solution that provides block I/O using the Storage Concentrator with the ease of installation and administration of a NAS device.
The Storage Concentrator is an Intel-based 1U computing element that runs a custom embedded operating system called StoneFusion Technology. It provides the mapping or virtualization between Ethernet attached servers and Fibre Channel or SCSI attached storage devices. Figure 1 shows the logical location in a storage network of the Storage Concentrator. There are two models defined: the i1000 and the i1500. The i1500 adds local mirroring of the operating system, dual power supplies, and support of Fibre Channel storage attachment. The features of the Storage Concentrators include:
In-the-data-path virtualization of storage using iSCSI over IP networks
No additional host software required
Web-based management tools
Dual power supplies (i1500)
Mirroring of operating system (i1500)
Local and remote copies of control information (configuration data)
Attachment of Fibre Channel (i1500) or SCSI storage devices
Implementation of a virtualization solution such as StoneFly's Storage Concentrator promises to allow on-demand provisioning of storage across heterogeneous storage devices, maximizing of storage resource utilization, and reduced storage management. StoneFly has greatly reduced the complexity and options in configuring a virtualization solution to make installation quick and administration easy. The storage systems are configured independently and the Storage Concentrator will map logical LUNs to the physical LUNs it discovers based on the configuration established at installation. Additional LUNs may be assigned, moved, or reconfigured through the web-based management tool at any time.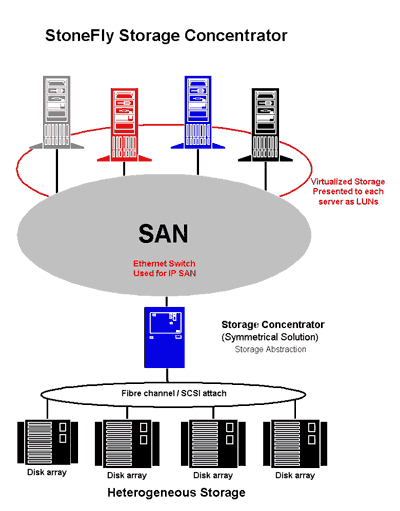 Figure 1: Storage Concentrator logical connection
Like the other virtualization solutions that have been deployed, Storage Concentrators enable scaleable storage with centralized data management. By implementing the abstraction (or virtualization) through an appliance that is in-the-data-path (or in-band, also called symmetrical pooling or a SAN Storage Manager), the LUNs can be presented to the attached servers (attached over an IP fabric in this case) without any software or additional changes allowing for a minimum of administrative changes.
Evaluator Group comments:
The remarkable thing about StoneFly Network's solution for providing abstracted storage for block level I/O is the product is correctly positioned in the market with the attributes necessary to be successful in that market. The target market for the Storage Concentrator is the small to medium business or departmental environments where storage is handled by a systems administrator in addition to the systems administration and not by a storage professional. Consequently, the storage system must have the ease of installation and simplicity of administration that has been the hallmark of Network Attached Storage appliances in the past. StoneFly Networks has wisely addressed the requirements with a solution that has those ease of installation and administration properties by not introducing the complexities that go with more sophisticated features required in enterprise data center environments. The pricing strategy reflects the target market segment as well with the suggested retail prices of $7,995 for the i1000 and $9,995 for the i1500. These prices will be in the decision domain of the management for the small networks where the product will be utilized. This market is typically served by the reseller channel so resellers will now have an attractively priced offering that can be included with storage, Ethernet switches and other equipment.
Many vendors using iSCSI to enable block I/O over Ethernet have a "one size fits all" or "one network world" message and don't really understand the differing requirements for the different market segments. Ultimately, this discredits those companies and carries over to their products. StoneFly Networks has very accurately positioned their product with capabilities and characteristics and the right messaging to be an attractive solution. We compliment them on their product positioning and market understanding.
StoneFly has avoided using the virtualization term because of it wide usage and varying meaning today but the product really does provide virtualized storage. We view it as a "Storage Networking Appliance" with the ability to provide many great advantages for the customer. In the market that is appropriate for iSCSI and IP networks, the ease of installation and administration and the product cost are the key features. Performance is not usually an issue and the storage is typically purchased from more than one vendor. The Storage Concentrator can be very useful for customers wanting to provide scaleable, cost-effective block I/O solutions.
===========================================================
To view all Storage Evaluator analyses and commentaries, go to Storage Evaluator Tips ===========================================================
The Evaluator Series and Evaluator Series On-Line (ES/OL) are trademarks of Evaluator Group, Inc.
Dig Deeper on SAN technology and arrays
PRO+
Content
Find more PRO+ content and other member only offers, here.