Problem solve
Get help with specific problems with your technologies, process and projects.
Network Appliance plays a new ballgame with DAFS
Network Appliance playing a new ballgame with DAFS
Network Appliance made a very significant announcement for network storage. Network Appliance announced the first...
Continue Reading This Article
Enjoy this article as well as all of our content, including E-Guides, news, tips and more.
availability of a storage product with the Direct Attached File System (DAFS) implementation. Included in the information were performance numbers that validated the initial excitement for the new storage access capability provided by DAFS.
Included in the announcement was another Network Appliance solution that was unrelated to DAFS; a new capability for the NetApp NetCache product to improve content delivery for remote office use of Web-enabled ERP applications.
Announcement highlights
DAFS
The DAFS standard has been in development by a consortium of interested parties for the last few years. With many interested vendors working towards DAFS-enabled products, the leader of the DAFS technology has been the first to deliver a product to the marketplace. Detailed information about the technology is available on its Web site (or at an Evaluator Group Storage Networking seminar). In brief, DAFS uses the Remote DMA function of the Virtual Interface Architecture to transfer data from a network attached storage system to the requesting server. This method eliminates the need for local file systems, TCP, IP with its inherent interrupts, segmentation and reassembly of data packets, buffer moves of data, and context switches. The promise for the customer is greatly increased performance in movement of data to an application. The following is a diagram of an access in DAFS.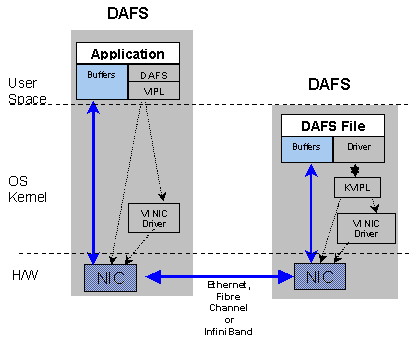 DAFS supports multiple interconnect technologies since it uses the Virtual Interface Architecture. It can operate over Ethernet, Fiber Channel or InfiniBand. The Network Appliance solution that was announced is for DAFS over Ethernet. In this case, Gigabit Ethernet is the networking technology.
Applications can be modified to take advantage of DAFS and do the Remote DMA directly to the address space of the application. This lends itself to database applications very well because database applications typically manage its own data buffers. Another method to capitalize on DAFS for applications that have not been modified is to provide another software layer, sometimes called a kernel plug-in, which handles the Remote DMA for the application that has requested the data through normal mechanisms and then provides the data indirectly.
The solution announced by Network Appliance covers both these approaches. Native, application enabled DAFS is supported as well as the kernel plug-in, which Network Appliance has labeled "DAFS Database Accelerator." All Network Appliance filers are capable of DAFS with the purchase of the DAFS protocol license, which includes the Data ONTAP 6.2 software for the filer, an Emulex VI Ethernet NIC card for the filer and an Emulex VI Ethernet NIC for the server.
Network Appliance has provided performance numbers for the DAFS implementation that is being released that are nothing short of astounding. Both DAFS native and DAFS Database Accelerator numbers have been provided along with native direct access storage to provide comparison. These performance numbers were taken from a very modest sized server. In this example, a 4-CPU Sun E3500 server was used running Solaris 2.8. The workload was transaction processing to a database with 66% reads and 4KB transfers doing asynchronous I/Os.
| | |
| --- | --- |
| Configuration | App. Server CPU msec/op |
| Direct-attached storage using volume manager | 113 |
| Direct-attached storage using local filesystem | 89 |
| RAW I/O access to direct-attached storage | 76 |
| DAFS Database Accelerator with VI/Ethernet NIC | 70 |
| Application enabled DAFS client (database) with VI/Ethernet NIC | 28 |
Another performance result was released that used the TPC benchmark. The TPC benchmark was run against a DAFS Database Accelerator in what is termed a "real-world" configuration with the standards DAFS-enabled filers. The results show 112,286.46 transactions per minute at $13.44 per tpmC. These are the best price/performance numbers available.
Evaluator Group comments:
These numbers are stunning. They really do prove the value of DAFS and change the equation for storage attachment. The struggle for Network Attached Storage has been in its use for transaction processing (primarily database applications) because of the performance limiting factors of TCP, IP, filesystems and the entire overhead associated with them. With DAFS, it's a new ballgame. The performance numbers show that DAFS has outperformed direct-attached storage. TCP/IP attached NAS performance numbers were not given (which is to be expected considering Network Appliance is the major provider of those NAS devices) but they would be expected to reflect the added overhead significantly.
These numbers may seriously damage the arguments for iSCSI in the transaction processing for databases market (which is the primary market). The main argument for iSCSI is that it uses existing Ethernet infrastructure. The Network Appliance DAFS announcement does just that and does it without the performance sacrifices for iSCSI using standard TCP/IP.
This announcement also portends the future of storage access with InfiniBand. Since InfiniBand natively uses the Virtual Interface Architecture, the use of DAFS for storage access may be the future. The performance would again get a major improvement with the faster (and less latency) InfiniBand technology.
We believe the DAFS announcement is one of the most important storage announcements in a long time. It will also change the thinking about the size of the server required for deployment of transaction processing applications since they won't be consumed with the overhead that was experienced previously.
===========================================================
To view all Storage Evaluator analyses and commentaries, go to Storage Evaluator Tips ===========================================================
The Evaluator Series and Evaluator Series On-Line (ES/OL) are trademarks of Evaluator Group, Inc.
Dig Deeper on Primary storage devices
PRO+
Content
Find more PRO+ content and other member only offers, here.