Backup basics: Three backup plans -- six tape backup
Backup basics: Three backup plans -- six tape backup
In a six tape backup, you'll need four discs or tapes for your daily incremental backups, and two discs or tapes for full weekly backups:
Continue Reading This Article
Enjoy this article as well as all of our content, including E-Guides, news, tips and more.

By submitting your personal information, you agree that TechTarget and its partners may contact you regarding relevant content, products and special offers.

You also agree that your personal information may be transferred and processed in the United States, and that you have read and agree to the Terms of Use and the Privacy Policy.

Disc/tape 1 = Monday backup of daily file changes. (Incremental backup) Disc/tape 2 = Tuesday backup of daily file changes. (Incremental backup) Disc/tape 3 = Wednesday backup of daily file changes. (Incremental backup) Disc/tape 4 = Thursday backup of daily file changes. (Incremental backup) Disc/tape 5 = Odd week Friday backup of all files, stored securely off-site. (Full backup) Disc/tape 6 = Even week Friday backup of all files, stored securely off-site. (Full backup)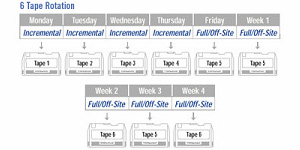 Ten tape backup tip and graphic.
---
Click here for more information on Imation technology.
Dig Deeper on Storage Resources
PRO+
Content
Find more PRO+ content and other member only offers, here.