Disk and disk subsystems
Gold Award:
Xiotech Magnitude 3D 3000e
Xiotech Corp.'s Magnitude 3D 3000e wasn't the flashiest, highest performing, most feature-laden or least-expensive product in this category. But what the 3000e lacks in overall superlatives, it makes up for by being well-rounded, dependable and cost-effective. Taken together, these admirable traits lifted the stout-hearted 3000e to this year's top spot.
The 3000e isn't a low-end commodity box. It's an entry-level system that supports multiple controllers that are geographically separated by FC distances. And like all Magnitude 3Ds, the 3000e delivers transparent failover and failback within controllers and across clusters so local outages don't prevent access to data and applications. Coupled with Xiotech's DataScale Geo-Replication software, storage volumes can be replicated to remote Magnitude 3D clusters in a matter of minutes. The 3000e can host three different kinds of disk drives: enterprise FC, low-cost FC or serial ATA (SATA) for any flavor of storage tiering. Drives, drive bays and controllers can be added non-disruptively.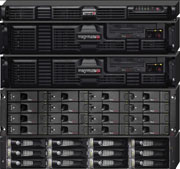 The 3000e is limited to four host-side FC ports and 19.2 TB of capacity using SATA disks. But it's not much of a limitation, given that the 3000e is but one model in the 3000 family. Users who outgrow the 3000e can non-disruptively upgrade to the higher performance 3000s, with up to eight host-side FC ports and 76.8 TB of capacity, or the top-of-the-line 3000x, which offers better drive failure isolation and performance.
Still, the 3000e probably wouldn't be such a hit in the departmental workgroup if it wasn't for usability features that have earned Xiotech a loyal following. The 3000e adheres to Xiotech's strict rule of no server-side code, even to support cluster failover and failback. No wonder judges said the 3000e "is very popular in midsized enterprises."