Backup hardware
Gold Award:
Sun L1400M tape library
As one of our judges put it, it may be "somewhat contrarian" to give the gold to a tape library in 2006, but Sun Microsystems Inc.'s L1400M solves a top problem in tape: the ability to use four different tape formats within a single library, and it's a solution that's been a long time coming. "With innovations in disk systems, if tape wants to be relevant for long-term archiving in the future, it needs to be format agnostic," said the judge, adding that "it's something tape customers have wanted for years."
Sun's L1400M is based on StorageTek's L700e library, which it acquired last June. The L1400M is compatible with fast-access T9840, high-capacity T9940 or midrange LTO/SDLT tape drive formats. The L1400M version adds support for more operating system platforms, including Novell and Linux, and is shipped with a Web-based management tool -- an optional upgrade with the equivalent StorageTek product.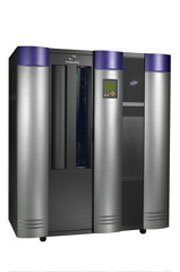 The single-frame library scales from 200 to 678 slots (1,344 slots if you go with a dual-frame architecture) and has a list price of $69,000, which includes Fibre Channel (FC) connectivity, remote management, a 20-slot cartridge access port, all physical capacity installed and access to 200 cartridge slots. Capacity is added at roughly $3,000 per 100-slot increment. Partitioning is an optional feature and lists at $8,000. As one judge put it, "finally, somebody did the right thing for their customers."