Networking equipment
Gold Award:
McData Intrepid 10000 (i10K) Director
As the drive to secure and better support server and storage applications grows, FC directors have become more than big, fast packet-routing boxes. New technologies such as server virtualization and blade servers, along with the growing economic necessity to establish and support tiers of storage, have dramatically increased the roles of directors within the storage fabric.
McData Corp.'s Intrepid 10000 (i10K) Director sets a new standard with the flexibility it brings to storage network design. With its 256 non-blocking ports, superior distance capabilities, native 10Gb/sec inter-switch links and FlexPars partitioning technology, the i10K can securely connect fabrics and dynamically move resources to meet rapidly changing storage and application requirements.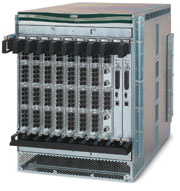 The i10K's FlexPars provide secure partitioning from the server to the array. SAN designers can divide the i10K into four partitions, which act as separate, independent directors. The separation includes the data, control and management of the switch. And unlike other directors that offer virtual partitioning, only the i10K can run independent instances of firmware on each partition, eliminating single points of failure to secure data. FlexPars can also consolidate SAN islands, but keep their benefits, such as lessening the impact and number of application disruptions.
With FlexPars, companies can avoid having to overprovision to meet peak application demands. The ability to dynamically allocate switch resources is also key to establishing and supporting tiered storage, which requires a switch that can quickly adapt to changing technology and performance requirements.