Storage management
Gold Award:
Kazeon Systems Information Server IS1200
A tiered storage environment is impossible to achieve without a data classification engine that helps companies to better understand and recover their data. A clear gold winner in its field, Kazeon Systems Inc.'s Information Server IS1200 was the first product out of the gate to catalog and index files. It also provides key services such as searching, resource reporting, file tagging and data movement.
One IS1200 appliance can manage millions of files; appliance clusters can handle hundreds of millions of Unix and Windows files. "IS1200 is an incredibly useful product that solves real issues with compliance," noted one judge.
The IS1200 crawls through both NFS and CIFS shares and collects meta data on the files. Once this process is complete, a file can be automatically assigned to a specific storage tier based on user-created policies. Users can receive hourly, daily, weekly or monthly classification reports. Meta data collection happens on many different levels. Crawls can produce basic classifications based on simple file meta data, such as file type, modification time, author and revision number for Microsoft Office files. Deeper classification is possible using Kazeon's extraction and assignment rules that create additional meta data tags.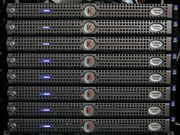 It's a hands-down winner with legal firms that must respond to discovery requests in weeks or even days. With electronic documents accounting for 80% of all corporate information, the cost of legal discovery can be staggering. For that reason alone, electronic discovery has become essential for meeting litigation deadlines cost-effectively. Kazeon Information Server IS1200 will process native files, extract relevant content, and copy or move documents to secure storage systems to aid the discovery process.
The IS1200 is a 1U out-of-band appliance with dual Xeon processors, 2 GB of RAM and dual Gigabit Ethernet NICs. It doesn't require agents. The Kazeon software offers a command-line interface, but a Java client is also available. Pricing for the IS1200 starts at $50,000.