Backup hardware
Silver Award:
Data Domain DD460
Data Domain Inc.'s DD460 is the first major upgrade of a previous winner, the Data Domain DD200 Recovery Appliance, which won gold in this category for the 2003 Products of the Year awards. At the time, a judge asked if the 20:1 compression ratio and 23 terabyte (TB) capacity was a typo. The DD460 would probably make that judge think he was dreaming -- the new box boasts not only performance improvements, but now packs a whopping 83 TB of usable capacity into a single appliance.
The capacity allows users to retain up to three months' of backup data onsite, where it's easily accessible. Improvements in throughput, now topping out at 290 gigabytes (GB) per hour -- comparable to LT0-3 performance -- enables users to back up massive amounts of data to disk under tight time constraints.
The DD460 also introduced what Data Domain calls the Data Invulnerability Architecture, which verifies the recoverability of data at backup time -- a claim that no other enterprise disk array or file system can make. Data is continuously re-verified so backup data can be restored quickly and reliably.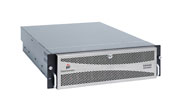 All products in Data Domain's DD400 Enterprise Series work with nearly any standard backup software; unlike many other storage players we could name, Data Domain doesn't want to sell you hardware so it can sell you proprietary software.
Ultimately, the best news for users is that the product costs just $75,000 (vs. the $58,000 price tag of the 23 TB version), bringing the cost of backup to disk well below the $1 per GB barrier. "This is one of the only truly innovative products in the bunch," said one of our judges.