Storage Management Survival School, quiz three, answer #8
Storage Management Survival School, quiz three, answer #8
Looking for something else?
This Content Component encountered an error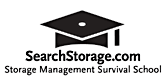 ---
According to Stephen Foskett, how many staff members are necessary for a bare bones storage management group?

a. 1
b. 3
c. 4
d. 18


Were you correct? The correct answer is:

c. 4
So, how did you do? Drop us an e-mail to let us know. Or, tell us your Storage Management Survival School quiz ideas.
Back to the Storage Management School Table of Contents
Dig deeper on Enterprise storage, planning and management