Storage Management Survival School, quiz three, answer #7
Storage Management Survival School, quiz three, answer #7
Looking for something else?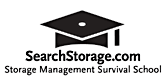 ---
Which is a problem in determining TB/admin ratio?

a. Data Centers are to vast
b. Ignores skill sets
c. Growth is out of control
d. Ignores complexity of the environment
e. All of the above
f. B and D only


Were you correct? The correct answer is:

f. B and D only
So, how did you do? Drop us an e-mail to let us know. Or, tell us your Storage Management Survival School quiz ideas.
Back to the Storage Management School Table of Contents
PRO+
Content
Find more PRO+ content and other member only offers, here.