Storage Management Survival School, quiz one, answer #8
Storage Management Survival School, quiz one, answer #8
Looking for something else?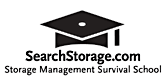 Click to see if you are correct!
---
Which are the primary component(s) to the LUN mapping and masking process?

a. Enabling multiple server to see LUN numbers
b. Restricting server access
c. Only A
d. Only B
e. A and B


Were you correct? The correct answer is:

E. A and B
Learn more:
What is a LUN, and why do we need one?
How to assign LUNs in a SAN
How LUN zoning comes into play
Storage Management Survival School Table of Contents
Dig deeper on Enterprise storage, planning and management