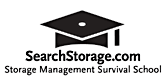 ---
According to Jamie Gruener, which is the first consideration you need to make when selecting a storage management tool?
a) Business analysis
b) Cost
c) Functionality
d) The vendor who offers the best gift

The correct answer is:
a) Business analysis. Gruener suggests examining a few key questions when determining what storage management tools are appropriate for your business. What tools are you using already? What applications are drawing most heavily on your storage resources? What could be automated? And while he doesn't advise you to make your vendor selection based on giveaways, he does suggest you consider which vendor's products are most commonly deployed to address your particular storage need.
Related articles:
This was first published in August 2004