Storage Management Survival School Quiz 1, Answer #1
Here is the answer to Storage Management Survival School quiz 1, question #1.
Looking for something else?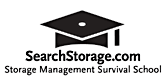 ---
Which is NOT part of Jamie Gruener's planning roadmap?

a) Plan design goals
b) Quality of service (QoS)
c) Information Lifecycle Management
d) Modeling costs


Were you correct?

The correct answer is:

c) Information Lifecycle Management. According to Jamie Gruener, assessing the management problem, establishing data quality priorities and developing metrics for measuring ROI are all key parts of the planning roadmap.
Information Lifecycle Management
deals with the flow of information within a data system, from creation to storage to deletion.
Dig Deeper on Enterprise storage, planning and management
PRO+
Content
Find more PRO+ content and other member only offers, here.