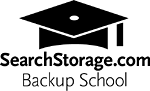 ---
Hardware RAID controllers are much faster than software RAID controllers but but Dorian says are still much more:
a. reliable
b. bulky
c. expensive
d. secure

Were you correct?
The correct answer is:
c. Expensive
Learn more:
Dorian says above all else, make sure you choose a RAID solution to match your cost benefit needs.
Storage guru Jon Toigo said the following about RAID and disk costs:
No one in the industry is prepared to tell you that now is the time to abandon tape for D2D. In the final analysis, all that the vendors and analysts are saying is that disk is getting cheaper and that it should eventually become as cheap as tape.
From the perspective of media cost, this may be true, but not from the perspective of system costs. At a systemic level, tape is still far less costly than disk-based data protection -- especially as the amount of data to be protected exceeds roughly what would fit on 200 tapes. Even "ghetto RAID" boxes can't compete with tape for large volume data protection requirements, according to smart guy Fred Moore of Horison Information Strategies.

Related articles:

How will you implement RAID?
This was first published in April 2004