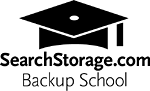 ---
Dorian says these die more than anything else in any organization worldwide:
a. Software
b. Employee stock options
c. Hard drives
d. Routers
Were you correct?
The correct answer is:
c. Hard drives
Learn more:
In a personal computer, a hard disk drive (HDD) is the mechanism that controls the positioning, reading, and writing of the hard disk, which furnishes the largest amount of data storage for the PC. Although the hard disk drive (often shortened to "hard drive") and the hard disk are not the same thing, they are packaged as a unit and so either term is sometimes used to refer to the whole unit.
Related articles:

The ultimate backup equation
This was first published in April 2004