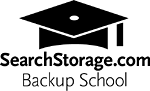 ---
According to professor Dorian Cougis, you'd never want to do this type of replication over a WAN...
a. Synchronous
b. Asynchronous
c. File based
d. Volume Based

Were you correct?
The correct answer is:
a. Synchronous. Asynchronous replication is good for WANS, synchronous replication is very good for LANs and SANs.
Learn more:
Related articles:

Synchronous vs. asynchronous
This was first published in June 2004