News
Stay informed about the latest enterprise technology news and product updates.
Data classification is end users' job
Without a proper data classification scheme, ILM is putting the cart before the horse, and some shops are pushing the job of classifying files down to users.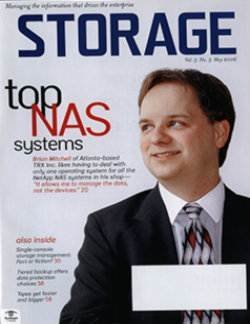 Download
Forget about automated information lifecycle management (ILM). Before one Fortune 500 biosciences firm ventures...
Continue Reading This Article
Enjoy this article as well as all of our content, including E-Guides, news, tips and more.

By submitting your personal information, you agree that TechTarget and its partners may contact you regarding relevant content, products and special offers.

You also agree that your personal information may be transferred and processed in the United States, and that you have read and agree to the Terms of Use and the Privacy Policy.

into ILM or tiered storage, end users will first have to classify all of the files they've generated over the years, says Michael Masterson, information systems architect at the firm. Without a proper data classification, he said, "ILM is putting the cart before the horse.

"IT can't classify those files," Masterson added. "They're not the information owners." To that

end, the firm is training users on and Abrevity Inc. FileData Manager, which supplies them with an interface for tagging files similar to the way in which Apple Computer Inc.'s iTunes lets you create Playlists. Once data is tagged appropriately, "ILM is downhill," he noted and just a simple question of data movement.

The Abrevity tool is the first one Masterson has seen that can capture a file's context. "It's unique in its ability to capture [file] attributes in a loosely structured way," he said, including the information you can gather about a file based on which folder it's in. "Somebody has already automatically classified that file by putting it in a certain folder." Other data classification tools Masterson considered look at coarse file meta data or rely on extensive keyword indexing.

Abrevity's ability to contextualize files is related to its unique SliceBase data model and not a generic SQL database. "With SQL," Masterson explains, "a designer has to come in and predefine the columns. It doesn't have the flexibility to just go out there and find whatever is there."

Masterson's company has good reason to embark on a data classification effort. As a public company developing medical equipment, the firm is regulated by both the Securities and Exchange Commission, and the Food and Drug Administration. "That's before we get to the classic ILM cost-of-infrastructure concerns," he said.

Luckily, the data volumes Masterson's division needs to classify are relatively small, so they don't need to implement a nearline tier of storage right away. "We have under 10 terabytes of free files, so we have the luxury of perhaps using more disk than we need to," he notes.

Data classification has become a hot topic as of late, and a number of startups are jockeying for attention. Other vendors to offer some form of data classification include Index Engines Inc., Kazeon Systems Inc., Njini, Scentric, and StoredIQ. Long term, analysts expect server and storage vendors to license data classification software directly.
Dig Deeper on Long-term archiving
PRO+
Content
Find more PRO+ content and other member only offers, here.