News
Stay informed about the latest enterprise technology news and product updates.
EMC expelled over maintenance fees
A school district in Dallas chooses between EMC, IBM and Xiotech midrange arrays and discovers a huge difference in maintenance fees between the vendors.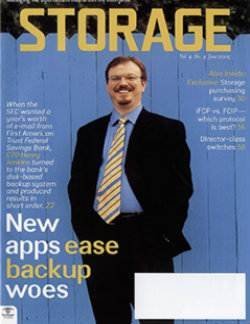 Download
When it came time to choose a SAN array to go with new data center equipment, Garland Independent Schools, a school...
Continue Reading This Article
Enjoy this article as well as all of our content, including E-Guides, news, tips and more.

By submitting your personal information, you agree that TechTarget and its partners may contact you regarding relevant content, products and special offers.

You also agree that your personal information may be transferred and processed in the United States, and that you have read and agree to the Terms of Use and the Privacy Policy.

district serving 57,000 students outside Dallas, paid close attention to the issue of maintenance fees.

The district approved the purchase of three new Unisys ES7000 servers, which Steve Rickard, open-systems manager for Garland Rickard divided into 10 hard partitions running Windows and UnixWare. To support clustering applications, Rickard also knew he needed a SAN, but he wasn't married to any one vendor.

Three companies chose to bid on Garland's request for proposals: EMC Corp. with a Clariion, IBM with a FAStT and Xiotech Corp. with a Magnitude 3D. In terms of actual hardware, "they were all relatively close," Rickard said, "but the big kicker was maintenance, which blew EMC right out of the water."

To wit: Over five years, EMC would have charged $600,000 in maintenance fees on $1 million worth of storage and switching hardware, with $218,000 of that coming in the fifth year, Rickard said. Xiotech, meanwhile, offered free maintenance for the first three years as part of its extended warranty, and then maintenance of approximately $14,000 for years four and five. IBM's bid was "closer to Xiotech's" but still not competitive, Rickard added.

"What's hard for us is the operational budget," he said, under which maintenance falls. Xiotech's three-year warranty, therefore, was music to his ears.

Garland hasn't had to compromise functionality or reliability for the cost savings, as Rickard reports that everything is working fine, and that service and support have been flawless. The district purchased two Magnitude 3Ds, one with 12 terabytes (TB) of capacity and a second 4 TB unit that the district will use with Xiotech's GeoReplication feature next year, once the district has completed upgrading to a Fibre network infrastructure.

Raising the money for the SAN had a different twist to the normal school fundraisers. Forget bake sales. These days, if a school district needs to make a major IT investment, it asks voters to approve a bond.

"We don't have any trouble buying hardware; there's such a big push for technology for education right now," Rickard said. "In some ways," he said, "there's more money than there is in the private sector." That's not to say that budgetary issues don't figure into the equation; "they're just different."

Click here for more of today's news.


Dig Deeper on SAN technology and arrays
PRO+
Content
Find more PRO+ content and other member only offers, here.