2004 purchasing intentions survey -- Backup and disaster recovery
2004 purchasing intentions survey -- Backup and disaster recovery
2004 PURCHASING INTENTIONS SURVEY RESULTS
BACKUP AND DISASTER RECOVERY
Continue Reading This Article
Enjoy this article as well as all of our content, including E-Guides, news, tips and more.
By submitting your personal information, you agree that TechTarget and its partners may contact you regarding relevant content, products and special offers.
You also agree that your personal information may be transferred and processed in the United States, and that you have read and agree to the Terms of Use and the Privacy Policy.

Will your use of tape as a backup format decrease, stay the same or increase?
20.30% Decrease

48.60% Stay the same
31.10% Increase
What is the primary format you will select for your tape drive purchases in 2005?
9.20% DLT
47.20% LTO
16.50% SDLT
4.60% AIT
7.70% 9xxx series
4.40% 35xx series
10.40% Other
Who has been your primary vendor for tape backup hardware in 2004? Who will be your primary vendor for tape backup hardware in 2005?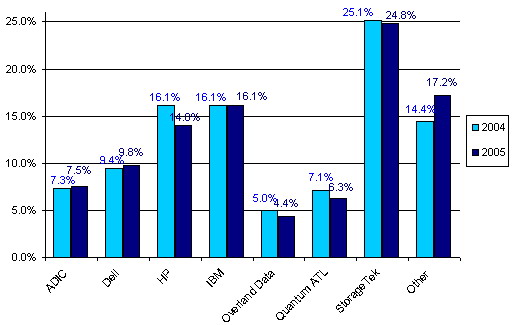 Which disk-to-disk backup strategies are you employing?
10.20% Disk configured as virtual tape (e.g., Quantum DX-100)
21.70% Disk configured as file system
5.20% Disk using content-addressable or other WORM technology (e.g., EMC Centerra)
40.50% Backup to disk and then to tape
28.20% Backup to disk and archive to tape
1.90% Single-instance storage (e.g., Avamar)
33.40% None
Who is your main disk backup vendor?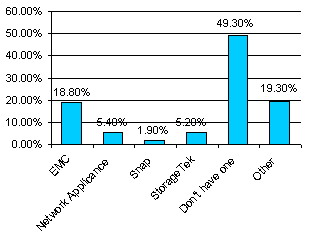 How would you describe your purchase plans for backup or archive systems to comply with data retention regulations and laws?
0.20% Decrease
42.40% Stay the same
38.80% Increase
18.60% None
Which technologies are you relying on to comply with data retention regulations?
11.70% Optical WORM
54.30% Tape archiving
32.40% Conventional disk-based backup/archive
10.40% Disk-based virtual tape libraries
10.90% Disk-based WORM technology such as EMC Centera
11.50% Don't know
14.80% None
1.50% Other
Dig Deeper on Enterprise storage, planning and management
PRO+
Content
Find more PRO+ content and other member only offers, here.