2004 purchasing intentions survey -- Budgets
2004 purchasing intentions survey -- Budgets
2004 PURCHASING INTENTIONS SURVEY RESULTS
STORAGE BUDGETS
Continue Reading This Article
Enjoy this article as well as all of our content, including E-Guides, news, tips and more.
By submitting your personal information, you agree that TechTarget and its partners may contact you regarding relevant content, products and special offers.
You also agree that your personal information may be transferred and processed in the United States, and that you have read and agree to the Terms of Use and the Privacy Policy.

Which industry is your company part of?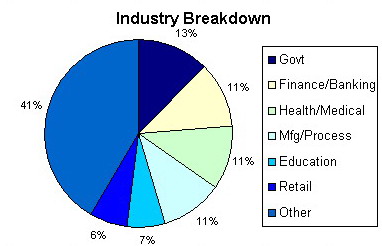 Estimate your company's 2004 storage budget
Average 2004 budget is $2.4 million
54.30% Under $1 million
16.10% $1 million to $2 million
10.20% $2.1million to $5 million
5.60% $5.1 million to $10 million
5.10% More than $10 million
8.80% Don't know
How does your company's 2004 storage budget compare to 2003?
9.6% decreased by more than 10%
4.4% decreased by 5-10%
1.3% decreased by less than 5%
22.2% no change
11.1% increased by less than 5%
20.7% increased by 5-10%
22.2% increased by more than 10%
8.5% don't know
Estimate the percentage of your storage budget that was allocated for each of the following items

Dig Deeper on Enterprise storage, planning and management
PRO+
Content
Find more PRO+ content and other member only offers, here.