iSCSI software offers alternative for networked storage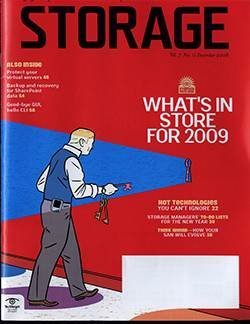 Download
Continue Reading This Article
Enjoy this article as well as all of our content, including E-Guides, news, tips and more.
By submitting your personal information, you agree that TechTarget and its partners may contact you regarding relevant content, products and special offers.
You also agree that your personal information may be transferred and processed in the United States, and that you have read and agree to the Terms of Use and the Privacy Policy.
thanks to a burgeoning market for iSCSI software, networked storage is popping up in new places, whether in blade servers or small shops that previously couldn't afford a SAN.

Between the summer and fall of 2008, two acquisition deals were done: Double-Take Software's $9.6 million takeover of iSCSI boot-from-SAN and SAN virtualization software vendor emBoot, and Hewlett-Packard's (HP's) $360 million merger with iSCSI SAN software vendor LeftHand Networks.

The acquirers were jumping into a well-populated market, with companies from startups to industry veterans offering inexpensive iSCSI SAN target software aimed at turning commodity hardware into networked storage. Other vendors include DataCore Software, Microsoft, Open-E GmbH, Seanodes and StorMagic.

"The midmarket is where we see iSCSI really taking hold," says Bob Roudebush, director of solutions engineering at Double-Take. "The big benefit we see and hear from those customers looking at iSCSI is cost, and software is much cheaper to roll out."

Roudebush admits that Double-Take, a host-based replication company, was most interested in emBoot for its boot-from-SAN capabilities and ability to move storage and server workloads around the network. Within that, a "new class of SAN storage needs" is emerging--one focused on test and development, or apps like virtual desktops, which need flexible, easy iSCSI deployments that can be set up and taken down at will.

Lee Johns, director of marketing for HP StorageWorks, says LeftHand's software-based approach to iSCSI, which typically finds its way to the customer pre-integrated on an industry standard server or within a virtual server appliance, will offer its new parent company the most flexibility among its product lines once the acquisition closes.

"We have plenty of hardware arrays," says Johns. "The attractiveness of iSCSI software to us is leveraging investments we're making elsewhere, such as blade servers."

iSCSI has been considered the domain of the mid-tier, but software-based iSCSI is now reaching smaller shops that might not be able to afford hardware-based offerings.

By the end of 2007, Tucson, AZ-based pest-control firm Truly Nolen of America had a problem: its multiple servers with DAS were running out of capacity for its approximately 3.5TB of total storage. And networked storage was a requirement to virtualize the company's servers with VMware's ESX.

Besides being more affordable, a software approach let systems engineer Themis Tokkaris choose HP's MSA storage hardware, which he can remotely access through HP's Integrated Lights-Out (iLO) software. Using software to create a SAN also seems to be more flexible when it comes to capacity upgrades. "If we had immediate needs, we could easily bolt on more capacity," says Tokkaris.

To Steve Duplessie, founder and senior analyst at Milford, MA-based Enterprise Strategy Group, server virtualization software and iSCSI storage virtualization software will go hand in hand. "LeftHand's software ... is effectively the VMware of storage," he writes in an email. "Ethernet-based storage software ... may eventually be the beginning of the end for proprietary storage infrastructure."


--Beth Pariseau
Dig Deeper on SAN technology and arrays
PRO+
Content
Find more PRO+ content and other member only offers, here.