Whys and Wherefores of SAS
Version 1.0 of the SAS spec was just completed by the SCSI Trade Association.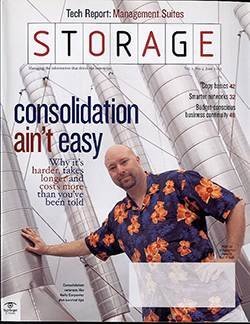 Download
Continue Reading This Article
Enjoy this article as well as all of our content, including E-Guides, news, tips and more.
By submitting your personal information, you agree that TechTarget and its partners may contact you regarding relevant content, products and special offers.
You also agree that your personal information may be transferred and processed in the United States, and that you have read and agree to the Terms of Use and the Privacy Policy.

For more than 20 years, disk drives and systems have connected across a parallel bus interface, which is now giving way to a serial architecture--Serial ATA (SATA) drives are case in point. And then there are Serial-Attached SCSI (SAS) drives. Version 1.0 of the SAS spec was just completed by the SCSI Trade Association. SAS, due out in less than a year's time, should present a host of improvements over parallel SCSI, including:
Thinner cables. Serial cables are only 5/16," compared to a 1 3/4" parallel SCSI ribbon, for better air flow.
Better connectivity. SAS calls for up to 4,000 devices per port, and 128 drives per channel. Practically speaking, it will be possible to connect hundreds of SAS drives together.
Improved performance. First generation SAS drives will have a 3Gb connection, about the same as Ultra320 drives. But because SAS drives are connected point-to-point, there's no bandwidth contention across a shared bus.
Dual connectors. Data travels full-duplex at 3Gb/s.
Compatibility with SATA drives. When behind a SAS controller chip, a single disk enclosure will be able to contain both SAS and SATA drives.
Dig Deeper on Disk drives
PRO+
Content
Find more PRO+ content and other member only offers, here.