Evaluate
Weigh the pros and cons of technologies, products and projects you are considering.
What storage product would you like to see on the market that isn't now?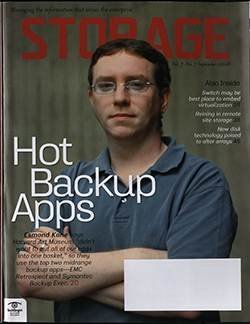 Download
Continue Reading This Article
Enjoy this article as well as all of our content, including E-Guides, news, tips and more.
By submitting your personal information, you agree that TechTarget and its partners may contact you regarding relevant content, products and special offers.
You also agree that your personal information may be transferred and processed in the United States, and that you have read and agree to the Terms of Use and the Privacy Policy.
Question of the Month: What storage product would you like to see on the market that isn't now?



"Flash drives to replace physical tapes, yet that can still be used in silo systems and removed and stored offsite."
--Rory Morrow, mainframe storage advisor, Dallas

"A software program that cuts across all vendor hardware allowing all storage duties--from installation to decommission--to be performed. Three reasons: first, training budgets are zero and cross-training is the new corporate theme. Second, price is everything and the data center is a cornucopia of hardware. And third, vendors aren't providing a single interface within their own tier offerings. Imagine each vendor only having to code new hardware to a known HAL or API."
--Curtis MacDonald, Milwaukee

"ZFS in the Linux kernel. It would bring Linux light years into the future."
--Maurice Volaski, computing support, Rose F. Kennedy Center, Albert Einstein College of Medicine of Yeshiva University, Bronx, NY
Dig Deeper on Data storage strategy
PRO+
Content
Find more PRO+ content and other member only offers, here.