Evaluate
Weigh the pros and cons of technologies, products and projects you are considering.
Vendors set sights on SMBs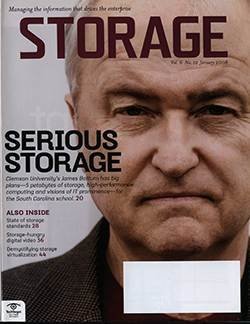 Download
Continue Reading This Article
Enjoy this article as well as all of our content, including E-Guides, news, tips and more.
These days, it's hard to find an enterprise storage vendor that isn't trying to cater to small- to medium-sized businesses (SMBs). When Hitachi Data Systems releases a system with the word "Simple" in the title, you know vendors have painted a bull's eye on SMBs.

The Hitachi Simple Modular Storage System, which launched in October 2007, has plenty of company. That month, Network Appliance (NetApp) came out with a smaller member of its StoreVault SMB family. Dell, which has its own SMB platform and another it co-markets with EMC, paid $1.4 billion for EqualLogic in November to further bolster its SMB line. EMC is getting ready to let its "Mamba" SMB system out, while CEO Joe Tucci describes his firm's share of the market as "two bits of nothing."

But storage vendors have been down this road before without much success. EMC and Dell unveiled their first Clariion AX for SMBs in early 2004. More than three years later, Dell CEO Michael Dell chastised the storage industry for missing the mark with SMBs while his company took another shot at that market with the PowerVault MD3000i. And back in 2004, Hitachi actually billed its Thunder 9520V as an SMB system and then gave it the un-SMB-friendly price of $22,000 for 3.4TB. Needless to say, it didn't catch on with small companies.

So it's hardly a surprise that storage vendors are still treating the SMB space as virgin territory. Maybe the surprise will come when they get it right.

"The SMB storage market is practically nonexistent," says Tony Asaro, senior analyst at Enterprise Strategy Group. "It's still a green field because they haven't gotten it right. Storage needs to be easier and cost less. And you have to think of it more than a point product. You can make a single box easy, but how does it fit into the ecosystem?"

Storage vendors have learned some things along the way. Their recent releases have been iSCSI only, rather than complex Fibre Channel. Systems from Dell, Hitachi and NetApp, along with Hewlett-Packard's (HP) All-in-One, are engineered for SMBs instead of using stripped-down enterprise systems. Dell's multiple SMB platforms and NetApp's smaller StoreVault show that vendors aren't treating all SMBs the same.

They're still learning, though. John Anderson, chief technical architect at dental management services firm InterDent, sits closer to small- to medium-sized enterprises (SMEs), with 130 offices in eight states.



But Anderson says his needs--Windows file serving and replication--are the same as a typical SMB. After considering systems from EMC and HP, he settled on an EqualLogic PS400E iSCSI SAN, partly because EqualLogic's SAN was easier and cheaper to manage.

"The biggest thing a storage vendor can do to serve SMBs is to benchmark their products against typical SMB and SME application loads," says Anderson. "It doesn't mean anything for me to see a benchmark of 10,000 Exchange users."

Daniel Covell, owner of The Covell Group consulting firm for small businesses, is on the other end of the SMB spectrum. Some of his customers are so small, he says, their storage needs consist of an external USB drive.

He says a company looking to spend $4,000 on a storage system has traditionally been limited to a Windows server with DAS or an off-the-shelf NAS system that's inadequate even for small workloads.

But Covell says things are getting better. He recommends StoreVault for smaller customers because he's satisfied with the performance and support for its price. "Just in the last year, we're seeing lower priced storage models that are worthwhile," he says of SMB systems. "StoreVault isn't really designed to compete with NetApp's enterprise storage. But small businesses can afford it and have redundancy."


--Dave Raffo
Dig Deeper on Storage vendors
PRO+
Content
Find more PRO+ content and other member only offers, here.