Varieties of data protection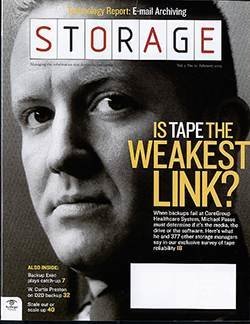 Download
When it comes to protecting your data, there truly is no silver bullet. "We get asked a lot 'What is the best data...
Continue Reading This Article
Enjoy this article as well as all of our content, including E-Guides, news, tips and more.
By submitting your personal information, you agree that TechTarget and its partners may contact you regarding relevant content, products and special offers.
You also agree that your personal information may be transferred and processed in the United States, and that you have read and agree to the Terms of Use and the Privacy Policy.
protection method--backup, snapshot, mirroring, etc.?'" says Kevin Liebl, VP of marketing at StoreAge. "The truth is that they all protect against different things, and a mix based on user objectives is the right answer. It depends on what you're trying to protect against." According to StoreAge, these data protection mechanisms can help withstand the following kinds of failures:
Dig Deeper on Storage Resources
PRO+
Content
Find more PRO+ content and other member only offers, here.